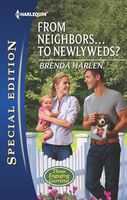 Series:
Those Engaging Garretts
(Book 1)
PAGING DR. DADDY?

When Georgia Reed moved her twin boys and infant daughter out of the bustling city, she didn't expect to have a doctor on call. But her gorgeous neighbor-and part-owner of the cutest litter of puppies she's ever seen-wasn't your typical orthopedic surgeon. Matt Garrett was the most popular bachelor in town...and when he asked Georgia on a date, the single mom couldn't say no.

All Matt ever wanted was a family-and the right woman. Ever since he moved next door, he had a sneaking suspicion that Georgia was that woman. The beautiful widow and her kids came as a package deal...which suited Matt just fine. Now if only he could make Georgia see that they could be more than good neighbors....
Good book. Matt was a real sweetheart of a guy. When he moved in next door to Georgia he was immediately attracted to her. Besides finding her beautiful he was also impressed with her devotion to her children and what a great mother she was. He was ready to find the right woman and settle down and his instincts were telling him that Georgia was that woman. Georgia was attracted to Matt also but very hesitant to enter any kind of relationship with him. She had had a very unsettled childhood with a mother that was constantly looking for love. This made Georgia very cautious and unwilling to risk her children being hurt by losing someone else in their lives. Matt was very persistent in his pursuit. She began to soften towards him when she saw how wonderful he was with her children and how much the kids had come to love him. I really liked Matt's patience with her doubts and how he did his best to show her how good they could be together. Overall a very sweet story.