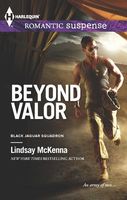 Series:
Black Jaguar Squadron
(Book 4)
"YOU MAKE ME FORGET EVERYTHING ELSE."

Luke Collier knows his duty. A Marine Corps combat medic, his job is to save lives-not satisfy his own desires. Megan Trayhern is his corpsman, but the beautiful redhead can't be anything more. Luke has already given his heart once, and he understands the toll the Corps can take on a woman, on a romance...on a marriage.

Megan has her own mission. While she doles out medical care in the nearby village, she's also gathering intel. It's a dangerous assignment, one that the onetime military brat undertakes without fear. She needs to focus-and be careful-and the growing passion she feels for Luke can only put them both at risk. Honor binds them both, but the heart gives its own orders....
I love Lindsay McKenna's military romances and this was another top notch book. Megan is a Trayhern, and as such has followed in the family tradition of military service. She is also a healer and nurturer so she chose to train as a nurse and become a combat medic. She is part of a group that assigns women to combat units so that they can interact with Afghan women who are forbidden to speak to men who are not family members. Her presence also makes things safer for the men of the unit. When she is sent to a Marine unit on the Afghan border she is assigned to the current medic for training and support. Luke is thrilled to have Megan there because he sees the need in the local village. He doesn't expect an immediate attraction to her. They fight their growing feelings but it is a losing battle. I really loved both Megan and Luke. Megan knew her strengths and weaknesses. She had great empathy with the women of the village and was able to jump in an help immediately. She had a wonderful ability to keep calm in a crisis which helped her a lot. Luke was experienced as a combat medic and was able to give Megan a lot of great advice. The story also did a wonderful job of showing what life is like for the villagers. The explanations of the relationships between the villagers and the troops and how they had to work with culture differences were well done. The action was fantastic from the attacks on the base to Megan's kidnapping. I loved seeing Megan stand up for her patient and face down the woman's husband. I really liked seeing the way that Megan and Luke took their developing relationship slowly and tried hard to keep it out of their working relationship. I also loved the character of Mina, the head man's wife. She was the perfect liaison between Megan and the Americans and her husband. She was terrific at explaining to Megan the way things were from the women's point of view. I loved seeing Emma and Khalid again. I also look forward to seeing more of the Turkish woman pilot - I expect she will have her own story before too long. I was also excited to see that throughout the book Marine and Marine Corps were properly capitalized (a pet peeve of mine). Maybe the editors at Harlequin finally understand how it is supposed to be done!