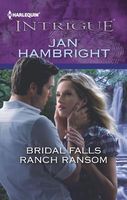 EVE BROOKS THOUGHT SHE'D NEVER LEAVE THE HOUSE AGAIN-UNTIL J.P. RYKER GAVE HER A REASON

Former FBI agent J.P. Ryker was hired by reclusive Idaho ranch owner Eve Brooks after a kidnapper threatened her for the second time in a year. He is determined to keep his new boss safe, even if he only catches glimpses of the mystery woman through heavily curtained windows. But when the threats to Eve's life become more deadly, J.P. convinces Eve to let him see her face-to-face. One look and J.P. knows all of Eve's secrets...and can't resist the once-famous beauty who hasn't been seen in public in months. With every reason to protect her and few clues about who is after her, J.P. is the only one she seems to trust. A trust he knows will be shattered when she discovers his connection to her tragic past....
Very good book. There was some very intense emotion and action in this book. Eve came home to the ranch after an attack left her disfigured. Now she's pretty much hiding out afraid of peoples' reactions if they see what she looks like now. Thanks to the recent threats against her she has hired JP to protect her. At first she doesn't let him see her either, but he soon wins her trust. I really liked the way she was able to open up to him. She was also surprised by JP's reaction when he did see her and it went a long way toward making her trust him. That trust also added to the stronger feelings she was developing for him. Eve's feelings for him also gave her the courage to come out into the light and face the people who worked for her and then to go back to LA and face her future there. JP's last FBI mission had ended badly and now that he is working for himself he is determined that nothing will happen to her on his watch. When he is attacked his first night on the ranch and further attacks on him and Eve happen he knows the danger is intensifying. He also knows that he is feeling more for her than is wise, but he can't stop it. I loved the way that he saw past her surface damage to the person she was underneath and was able to show her how strong she was. He also knew that they had a connection that she was going to be devastated by when he finally gets around to telling her. There were some interesting twists to the events in the book, some of which I suspected and a couple I didn't.