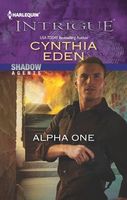 Series:
Shadow Agents
(Book 1)
"JULIE'S MISSING. YOU HAVE TO GET HER BACK."

The minute he got the message, undercover agent Logan Quinn sprang into action. Getting Juliana James out of Mexico alive was the Elite Ops covert agent's only priority. But once the senator's daughter was safely back in their Mississippi hometown, Logan had a new mission: to get another chance with the woman he couldn't lose again.

Juliana had never forgotten the day, ten years ago, when Logan left her heart in pieces. Now he was back in her life, sworn to protect her from the ruthless weapons dealer who wanted her dead. As passion blindsided her-and she was once again thrust into danger-Julie realized how much she'd risk for one more day in Logan's arms.
Excellent book. The action started on the first page and never let up. Julie had been taken hostage to try to force her father to turn over information about Mexican arms dealer Guerrero. Logan and his black ops team were sent tin to rescue her. Julie hadn't seen Logan in ten years, ever since he had left her and broken her heart. Now he swore to protect her from Guerrero. Julie wasn't sure that she wanted Logan back in her life but she did know that she could trust him to keep her safe. What she didn't know was that the team was also using her for bait to draw Guerrero out. She was furious when she found out but was also determined not to be a victim any longer. I really liked the strength of will that she developed during the book. The difference between the Julie of the start of the book and the one at the end was significant. Especially once she found out why he had left her and decided to fight for what she wanted. Logan had left Julie all those years ago because he never felt that he was good enough for her. There were things in his past that he was sure she would never forgive him for. He had also never forgotten her and when he was sent to rescue her he knew he wanted a second chance with her. Logan was caught between a rock and a hard place as he wanted to keep her safe while he found out who all was behind the attacks. He also was still afraid of what she would think of what he had become. I loved the ending and the way they were able to move on with their future. The suspense in this book was also very well done. Each step moved on logically to the next keeping me guessing as to who was really behind some of the events. There were a couple surprises that I didn't see coming. I also liked the supporting characters and how well they were all portrayed. I am really looking forward to the rest of the series.