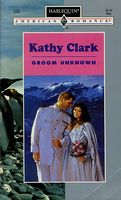 LOVE ON ICE

Abby Harris had never been impetuous -- until she escaped to Antarctica to marry a man whose words had won her heart, but whose face she'd never seen and whose voice she'd never heard.

A sight-unseen love affair had its surprises, though. Abby got one when she and her wilting wedding bouquet deplaned in the frozen tundra and fell into the arms of Prescott Roberts, the egotistical scientist from her office -- powerfully transformed into an officer and a gentlemen.

She'd never cared for his arrogant manner. He'd never cared for her ice-princess coolness. Neither believed in destiny -- but they believed in a deal. Dealmaking was a risky business, though, when the bargaining table was the marriage bed.
Very good book. Abby is the quiet and smart one of her three sisters. She considers herself to be plain and unremarkable. When she starts on online correspondence with a fellow scientist she doesn't expect anything more than friendship. When he finds out that he is going to be spending four months in Antarctica he asks her to marry him and join him there. Even though she'd never done anything like this before, she said yes. She was stunned to find out that he was a coworker whom she never gotten along with, and he was just as surprised by her. However, he had been drawn to her from the beginning and now had to decide how to handle this marriage. I really liked both Abby and Prescott. Abby had a chance to break out of her shell and be a different person. I liked the way that she made an effort to do more than just work and got to know the people she was with. I also liked the way that she was trying to give her relationship a chance. As she and Prescott took the time to actually get to know each other as people she found there was a lot about him that she really liked. She also realized that she had fallen in love with him, but didn't have the courage to tell him so. Prescott was angry at the deception at first, but as he got to know Abby better he discovered there was more to her than he had realized before they got to Antarctica. I loved the way that he appreciated all of her layers and how he came to love the whole woman. Both of them did a lot of growing while they were there. I thought the ending was really neat.