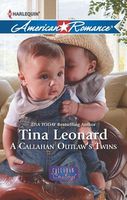 Series:
Callahan Cowboys
(Book 9)
A Lonesome Cowboy Finds His Destiny

Former Navy SEAL Sloan Callahan lives by his own rules, free and alone. But now urgent family business brings Sloan and his brothers and sister to New Mexico-and the cousins he'd never met. That isn't all he finds on Rancho Diablo, where a petite blonde is about to completely upend Sloan's world.

As the liaison between the two branches of the Callahan clan, Kendall Phillips's job description doesn't include being bossed around by one ex-military cowboy. It's hard enough to concentrate with the sparks she and Sloan are creating together. Now the sexy rebel has two more lives to safeguard: the baby boys Kendall's carrying.

No way is Sloan allowing danger to touch Kendall and the twins. His new mission: to protect his loved ones as he gets ready to change the course of Callahan destiny forever!
Very good book. Trouble has come again to Rancho Diablo and this time Chief Running Bear has called in reinforcements - Callahan cousins unknown before this. Sloan and his siblings are not very happy about being pulled from their own lives but family is family. Sloan is a loner who has never been interested in settling down. His attraction to Kendall is instant, strong and unwelcome. He has to concentrate on protecting the ranch and she is a distraction. He is drawn to her independence and strength but also irritated by her refusal to do as he wants her to do. Sloan is a protector and when Kendall ends up pregnant they marry. Sloan sends her away to keep her safe but misses her and the boys once they are born. I loved seeing Sloan change as Kendall comes to mean more and more to him. Kendall is immediately attracted to Sloan also though he also irritates her. When she is attacked he is the one who helps her and their attraction gets physical. She is happy when she discovers she is pregnant but not sure they need to marry. When they do she hopes that they will grow closer but he convinces her to leave the ranch to keep the babies safe. Kendall is determined to make her marriage work and will do anything to make it happen. I loved seeing her show her independence but also her softer side. The two of them had to learn to compromise and work together to make their future possible. I loved seeing Fiona up to her old tricks to make the new Callahans part of her family. I am also looking forward to seeing how the new mystery plays out. It has certainly caused some tense moments so far.