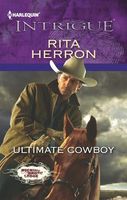 Series:
Bucking Bronc Lodge
(Book 6)
HE'S A TOUGH-TALKING COWBOY-EXCEPT WHEN IT COMES TO ONE GORGEOUS FBI AGENT

Rancher Brody Bloodworth has spent years blaming himself for his brother's disappearance. If he hadn't snuck off to be with Julie Whitehead, everything would have been different-and he wouldn't have pushed her away. Now Julie is back, as an FBI agent with a solid lead on his brother. Although the past makes Brody reluctant to fall for Julie again, he admires her for being unable to keep her hands off the case. Before long he finds himself unable to keep his hands off her. As he prepares for a showdown with the ruthless kidnappers, Brody knows what's at stake if he wins. And just how much he'll lose if he doesn't....
Very good book. Brody has spent years dealing with the guilt of his brother Will's disappearance. He started the Bucking Bronc Lodge as a way to help other boys in a way he hasn't been able to do for Will. He has also never given up the hope of finding him. When he gets a call from Julie telling him that they finally have a promising lead he can't wait to jump in. He has also felt guilty for the way he treated her after the kidnapping, but doesn't want to take the risk of falling for her again. Julie has also spent the last years dealing with her own guilty feelings. She gave up her dreams of working with animals and went into law enforcement working mostly on cases involving women and children. She has never given up hope of finding Will and is happy to have this promising lead. As she and Brody work together to find the man who has kidnapped many boys over the years they learn to accept the events of the past and to try to let go of the guilt. I loved Brody and his never give up attitude. I also loved the patience and caring he showed to all the boys on the ranch. I also liked seeing the people from the previous books and how they all came together to help Brody when he needed it.