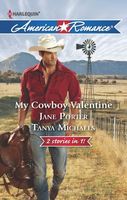 A kiss from a cowboy?
Be Mine, Cowboy by Jane Porter
Years ago, Rachel James gave Cade King an ultimatum, and he walked. Heartbroken, Rachel moved on. Life is tough as a single mom, but Rachel is doing just fine.

Now Cade's back after burning up the rodeo circuit, and things are different. He's sober, but with one burning regret. He has some work to do to show Rachel he's changed - but he's up to the challenge.
Cade has come back to Mineral Wells to try to renew his relationship with Rachel. They had been in love years earlier, but Rachel couldn't handle his drinking and gave him a choice - straighten up or leave. He left and has regretted it ever since. He eventually straightened himself out and now he wants to show her that he's changed. I loved the way that he knew he had a lot of work to do to show Rachel that he wasn't the same irresponsible jerk. I also loved the way that he was so good with her son and had the patience that was needed to help her with his special needs. Rachel had been heartbroken by Cade's departure, but was fantastic as a mother. Her greatest problem was an over abundance of pride which kept her from accepting help when it was offered. I really liked the way that he refused to give up.
Hill Country Cupid by Tanya Michaels
Series: Hill Country Heroes (Book 3.5)
Tess knows what young Bailey Calhoun wants: a mom. So when she sees shy cowboy Nick Calhoun giving someone the eye, Tess goes into full matchmaking mode.

Nick is happy to have Tess's help - but her matchmaking backfires. How can he convince his cupid that she's the one he wants?
Tess is known in town as a pretty successful matchmaker. She has known Nick for most of her life and can't understand why the ladies in town keep overlooking him. She makes it her mission to help him overcome his shyness so he can find his soulmate. Nick is happy to accept her help, but soon realizes that the only woman he is interested in is Tess. Both of them have some real self esteem issues. Nick has always been shy and quiet because of his stuttering when he was younger. His older brothers are very outgoing, so he tends to get overlooked. Tess is shorter and curvier than her older sister and always seemed to lose out on everything to her. This also causes her to think that no man will ever be interested in her. When Nick starts pursuing her she can't believe that he really wants her and it takes some hard work on his part to convince her.