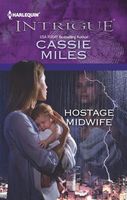 Series: Midwife (Book 5)
SHE'D BEEN TRAINED TO DELIVER BABIES, NOT RESOLVE A HOSTAGE SITUATION...

In a twist of fate, midwife Kelly Evans is the only person to hear the last words of a dying man. Although the words make no sense, someone thinks she knows more than she should. And millionaire playboy Nick Spencer may just be her fiercest protector. If his uncle was murdered, Nick fears the Spencer fortune is at risk. And worse, that Kelly, an innocent bystander, may be in danger. When a hostage situation traps Kelly within the killer's grasp, Nick knows he holds the key to her release. He'll do anything to save her life-even if it costs him his own.
Good book. It started in the middle of the action, then went back to a week previously to set it up. Kelly is a midwife who meets Nick, the brother-in-law of one of her patients, during one of her classes. They are immediately attracted to each other. She is with Nick when his uncle is shot in an apparent suicide and as a nurse is the one to help him while waiting for the ambulance. He mutters a few things that make no sense, but someone thinks she knows something. She and Nick soon suspect that it was murder and not suicide and they start trying to find out why and who. This book was much more about the search for why and who and didn't have the intense action scenes that I am used to in the Intrigues. The hostage scene at the end was good. I enjoyed seeing how both Nick and Kelly dealt with the situation. I liked the way that both Nick and Kelly were able to do the creative thinking like his uncle did rather than focusing on the bottom line like his brother and the others.