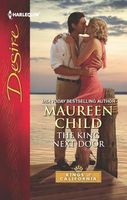 Series:
Kings of California
(Book 12)
"Just give me one night."

Single mom Nicole Baxter is perfectly fulfilled without a man in her life. But when billionaire Griffin King moves in next door, she considers a fling. Not only is he gorgeous and exciting, but he's not staying. It's an ideal situation, as long as she doesn't fall in love….

Griffin King never met a woman he couldn't leave. But desire sparks with Nicole like lightning: quick and hot. It's just what this workaholic commitment-phobe needs. But why does the thought of summer's end have Griffin longing for more with the one woman he shouldn't have?
Very good book. Griffin is housesitting for his cousin while he is on vacation. His new cousin-in-law has also told him to leave her best friend Nicole alone. Griffin figures that would be no problem since he stays away from single mothers. The problem is that he is very attracted to her and after he causes a fire at her house she and her son move in with him. He manages to hold on to his control until she comes to him and asks for just one night with him. They aren't able to stop at one night and decide to continue until he has to go back to work. Griffin is surprised to discover just how much he is coming to care for both Nicole and her son. This is not welcome news as he was badly hurt by another single mom and he fears the same thing happening again. When he leaves first he finds that he can't escape the memories. Nicole has been on her own with her son for three years. She prides herself on her independence and refuses to allow herself to depend on a man for anything ever again. She is not happy to find Griffin insisting on helping and refusing to take no for an answer. Her attraction to him is strong and she decides that this is the perfect opportunity to grab something for herself. She figures to can enjoy a short fling with Griffin since she knows there is an end date. She doesn't expect to find herself liking him so much. When he also turns out to be the kind of man who is wonderful with her son she can't help falling in love with him. I loved the way she went to Griffin to propose the fling and the way it affected him. There were also some pretty funny parts in the book, such as the way the characters reacted to the threat of losing access to Katie's cookies. I also loved revisiting some of the other Kings and their reactions to Griffin's difficulties.