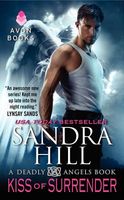 Series: Deadly Angels (Book 2)
It's not easy being a Vampire Angel.

No one knows that better than Trond Sigurdsson. In the centuries since he last went out drinking and wenching with his Viking buds, Trond has been a gladiator, a cowboy, a ditch digger . . . even a sheik. But now he's the baddest of them all: a kick-ass Navy SEAL kicking butts of terrorist immortals with the help of his hotter-than-Hades female partner, police officer-turned-Special Forces operative Nicole Tasso -- whom Trond dearly hopes to "partner" with very shortly in a whole different way.

The "cop" part of Nicole tells her there's something bizarre about her gorgeous godlike teammate. But her "all-woman" side can't help wondering how great it would be to have a virile Viking in her bed. Trond has secrets galore, but Nicole feels certain she can dig them out -- and really get to the heart of this powerful, unnerving stranger whom she may be risking her soul to love.
Loved the book. Trond and Nicole were great. Trond's sin was sloth/laziness which makes his current mission as a SEAL a particular punishment for him. His constant mental complaints about why things always have to be done the hard way are pretty amusing. His other problem is his conflict with Nicole the woman SEAL or WEALS as they are called. They are constantly rubbing each other the wrong way. She can't stand his laid back ways and her constant peppiness makes him crazy. But there is also an attraction there that can't be denied. As a vangel Trond is forbidden to have sex outside of marriage so his attraction to Nicole has him constantly on edge. He also has his mission to stop the demon vampires from infiltrating the SEALs and has two of them he needs to save. Nicole has her own past issues that she is trying to overcome. She left an abusive marriage and her perkiness is her method of compensating for the way she submitted to the abuse for so long. Now she feels that she has become the woman she is supposed to be. Her attraction to Trond is unwelcome as she finds his attitudes offensive, but she can't deny his physical appeal. She also trusts her instincts that say he has secrets that he is hiding. This reminds her too much of her ex-husband and she is determined to find out what they are. The more time they spend together the more their relationship changes as it moves from dislike to intrigued to attracted to love. The trust that developed was very important also. The mission that they and the other SEALs are sent on to recover some hostages is well done but ends up with Trond and Nicole sort of captured themselves. Their interactions with Zeb the demon vampire are great and I loved his part in the story. The ending was a lot of fun with St. Michael playing his part yet again. I loved seeing characters from Sandra Hill's Viking SEALs books as they played their own parts in this book. The meeting of Trond and Max was great as they recognized each other as Vikings. I also loved the wedding scene at the end. The concept of the Viking vampire angels has been a lot of fun so far. The idea of Viking angels (oxymoron for sure) fighting evil has been great as they try to do their jobs while following the rules (not what Vikings are known for). Can't wait for the rest of the series.