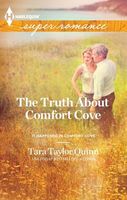 Series: It Happened in Comfort Cove (Book 3)
The case is cold but the leads are hot…

And so is the attraction between detectives Lucy Hayes and Ramsey Miller.

Twenty-five years ago, there was a kidnapping in Comfort Cove, Massachusetts. Neither the child nor the kidnapper was ever found.

Now there are fresh leads, including one in an Indiana town. Lucy is working that end of the case…

She and Ramsey are two top-notch detectives. And two people who've learned to keep an emotional distance from others. But as they explore various confusing clues in the decades-old abduction, they grow closer. Especially when they discover what really happened in Comfort Cove. Because the truth is as shocking as it is unexpected!
Good book and conclusion to the series. Lucy and Ramsey have been working together for several months to solve some cold case missing children cases. It is obvious that they are getting closer on a personal level but both avoid emotional ties. Lucy is tied to her mother who has a serious drinking problem and emotional scars from a traumatic event twenty five years earlier. She looks forward to her conversations with Ramsey and finds that she is also becoming attracted to him. She doesn't want to ruin their friendship or working relationship so she suppresses her feelings for as long as she can. Ramsey is carrying a lot of guilt over the death of his sister. This has caused him to draw away from anything that would stir up his emotions. He buries himself in his work to fill the void. He enjoys talking with Lucy who can relate to his work issues because she is just like him. It gets to the point where they both want to move beyond a professional relationship but both are afraid of what could happen. The conclusion of the mystery really surprised me. I loved seeing how Lucy and Ramsey worked together and the way that they were able to bounce ideas around. I liked the way that Ramsey was there for Lucy when she really needed him.