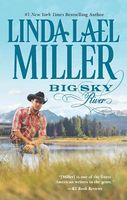 Series:
Parable MT
(Book 3)
Sheriff Boone Taylor has his job, friends, a run-down but decent ranch, two faithful dogs and a good horse. He doesn't want romance--the widowed Montanan has loved and lost enough for a lifetime. But when a city woman buys the spread next door, Boone's peace and quiet are in serious jeopardy.

With a marriage and a career painfully behind her, Tara Kendall is determined to start over in Parable. Reinventing herself and living a girlhood dream is worth the hard work. Sure, she might need help from her handsome, wary neighbor. But life along Big Sky River is full of surprises...like falling for a cowboy-lawman who just might start to believe in second chances.
Very good book. The back cover copy got some things a bit wrong. At the beginning of the book, Boone had no dogs and acquired one during the story. I loved the way he did get the dog and how much he came to mean to the whole family. Tara does everything she can to avoid even talking to Boone much less ask him for help. That being said, I really enjoyed the book. Tara is living her dream raising her chickens in Parable. She has friends and a community she loves. She's not real fond of her neighbor Boone. They hit it off wrong when she moved in and he said something about a citified wannabe farmer and she considered him a redneck sheriff too lazy to fix up his double wide. At the beginning of this story Tara has had a call from her ex-husband asking her to care for his twelve year old daughters because they keep running off the nannies. She says yes because she has missed them so much. I liked Boone from the beginning but he did need a bit of an attitude adjustment. When his wife died he had been so devastated that he sent his sons to live with his sister until he could get himself together. That short period has stretched to several years and circumstances have led to them having to come back home to him. Now he has to learn to be a father all over again. The longer the boys had stayed away the less confidence he had in his abilities. With both Boone and Tara pulling parent duty they find themselves together more often and realize that those sparks weren't dislike, but passion. I really enjoyed seeing both of them open their hearts to the possibilities of a future together. I also enjoyed seeing more of the people of Parable. Opal still seems to be the glue that holds the town together. Hutch and Slade are great at keeping Boone straight and I loved the way that Kendra and Joslyn kept pushing Tara toward Boone. I also liked seeing the way that the town pulled together when people needed help, especially for the family of the boy who fell from the water tower. I'm also looking forward to seeing whatever happens with that obnoxious deputy.