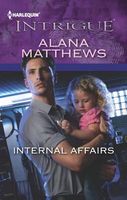 THE LOVE OF HIS LIFE WAS MARRIED TO THE MOB

When the call came in over the radio, Sheriff's Deputy Rafe Franco thought he would be responding to a typical domestic dispute. But he didn't know that the perp was St. Louis's most notorious mobster - or that the victim was his college sweetheart, Lisa Tobin.

Now, as Rafe is drawn into a web of crime and danger, he discovers that his feelings for Lisa are stronger than ever. And her three-year-old daughter, Chloe, is melting his heart in ways he'd never imagined possible. But Lisa's ex is a powerful sociopath who will stop at nothing to get her back-or destroy her. As Rafe's instincts as a man battle with his duty as a cop, he'll do anything to ensure their survival...and their future as a family.
Good book. I liked both Rafe and Lisa. Lisa hadn't known what her husband was really like when she married him, but when it became obvious what a monster he was she divorced him. Unfortunately, He is obsessed with her and attacks her in her own home. Rafe is the responding officer and is thrilled to be reunited with her, but not so happy when he finds out who her ex is. When he takes it upon himself to warn Oliver to stay away from Lisa, he becomes a target. Lisa knows immediately that she still loves Rafe, and feels guilty for not telling him about their daughter. I did like the fact that she didn't put it off too long even though she was worried about his reaction. I also liked the way that she had the courage to stand up for herself against her ex. I liked the way that Rafe took to Chloe right away, even before he knew she was his. I also really liked his protective instincts. Unfortunately he had a bad habit of acting before really thinking things through which got him in some hot water. I liked the way the whole family pulled together and hope to see more of them in future books. I also loved Rafe's grandmother - she was fun.