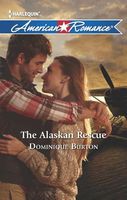 A Place For Wild Hearts To Heal

Sashi Hansen came to Prince of Wales Island, Alaska, to work herself closer to her dream: her own ballet studio. Instead, a wild bear has landed her in a nightmare. Her leg is broken, and she may never dance again. Her heart is broken with the loss of her best friend. And her mind...well, she's confused. Her savior, Dr. Cole Stevens, is sending mixed signals. She's never received such loving care-but it seems the healer needs healing, too, from his own private pain and loss.

Sashi's ready and willing, but can't get close. With everything that Alaska throws at him, why can't this courageous bush doctor handle his own heart?
This was a very good book, very emotional. Sashi had just finished a job in Alaska to earn money for the down payment on a dance studio back home in Virginia. She and her best friend were attacked by a bear, and her friend was killed. Sashi was badly injured. She had briefly met Cole and was instantly attracted to him. He was one of the people who rescued her and is now helping to take care of her. She can see in his eyes and by his actions that he is attracted to her too, but he seems intent on treating her more like a friend. She is also dealing with tremendous survivor's guilt, feeling like she should have been able to do more to save her friend. This guilt also makes her feel like she is unable to have a healthy relationship with Cole. Cole was attracted to Sashi from the moment he met her. But when he became her doctor he knew he had to distance his emotions in order to allow her to fully heal. He also realized he had his own survivor's guilt that he needed to work through. I loved the way that he took such good care of her. He also showed her the parts of Alaska that he had fallen in love with and was surprised to see how much she appeared to love it too. At times I felt like he had held on to his position of distance for too long as it made Sashi begin to doubt that he really felt anything for her. But she also pushed him away at the end when she allowed her guilt to take over again. I loved their families and friends and all the love that was shared with them.