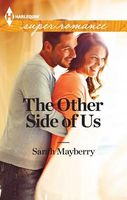 The making of a good neighbor

The best thing between Oliver Barrett and Mackenzie Williams is a fence. Ever since Oliver's new-neighbor gestures were met with unfriendly responses, he's decided to keep his distance. After all, he's in this seaside town to get his life on track again. That doesn't include working hard to get on Mackenzie's good side-no matter how intriguing she may be.

His intentions are put to the test, however, when his dog becomes infatuated with hers. The two crafty canines do their best to break down the barriers between the properties. And where the dogs go...well, the humans must follow It doesn't take long for a powerful attraction to build between Oliver and Mackenzie. They soon discover that the worst of first impressions can lead to the best possible outcomes....
Good book. Oliver has come to clear out his late aunt's house and try to get himself back together after finding out about his wife's unfaithfulness. He tried a couple times to make friends with Mackenzie, especially since their dogs were certainly enamored of each other. Both times he'd gotten the door slammed in his face. Mackenzie was staying in the cottage next door as she recovered from a car accident that nearly killed her. She hadn't meant to be so rude to Oliver but he had caught her at really bad times. When she made up her mind to make amends she discovered that they had a lot in common. As they spent time together their attraction grew. They also learned a lot about each other. Oliver has some real trust issues with other people and also his own feelings. He spends a fair amount of time in self reflection trying decide how he really feels about Mackenzie. Meanwhile Mackenzie is trying hard to recover from her accident so she can go back to her highpowered producer job. As she spends time with Oliver she also does some self reflection and realizes that she has some dreams that she had buried that might be worth dusting off. I really liked the fact that both were older and self aware enough to know what was happening between them. There were no major conflicts but a steady growing of their love. I liked the way that Mackenzie was able to go after what she wanted at the end. I also loved the two dogs and the parts they played in their owners' relationship. I thought they were pretty adorable and loved their ending also.