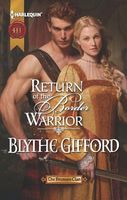 Series:
Brunson Clan
(Book 1)
Word in the Royal Court has spread that the wild Scottish borders are too unruly. Upon the King's command, John Brunson must return home…

Once part of a powerful border clan, John has not set eyes on the Brunson stone tower in years. With failure never an option, he must persuade his family to honor the king's call for peace.

To succeed, John knows winning over Cate Gilnock, the daughter of an allied family, holds the key. But this intriguing beauty is beyond the powers of flattery and seduction. Instead, the painful vulnerability hidden behind her spirited eyes calls out to John as he is inexorably drawn back into the warrior Brunson clan….
I have mixed feelings about this book. By the end I really liked it, but I felt like the first half dragged a bit, making it hard for me to get really involved. John had been sent away from him home at age twelve to be a companion to the boy king. Now he has been sent by the king to bring Brunson men to fight in the king's war against a traitor. He arrives to find his father dead and his brother as the new laird. No one is interested in having anything to do with his mission and he still feels like an outsider among his own people. He is rather naive I think about how effective the king's word would be in keeping the peace. He also discovers that the key to his success may be in convincing Cate that it is in the clan's best interest to cooperate with the king. He doesn't remember what Border people are like and thinks that a few kisses and cuddles will turn Cate from her purpose and is surprised when it doesn't. He also senses that there is more to her than appears on the surface. Cate's father was killed and she was assaulted two years previously. Since then she has lived for revenge and kept everyone at a distance. She doesn't understand why she is so drawn to John when she fears all men. She wants to trust her feelings and the things he tells her but trust is a hard thing for her now. I did like the growth that both characters showed. John changed from someone who wanted to hurry up and complete his mission and return to court to someone who had reconnected with his roots and was more interested in the welfare of his people. He also showed incredible kindness and patience with Cate and showing her how good it could be between them. He also was able to confront his feelings of rejection from being sent away. Cate was able to confront her fears with John's help and learn that she could move on from the past and have a brighter future. I liked the way that it was shown as a process and not a sudden healing. I did like the way that people's motivations were portrayed in a realistic way. The politics of the time were also shown well without beating the reader over the head with it. I'm looking forward to the next one.