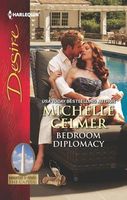 Series:
Daughters of Power: The Capital
(Book 2)
A Scandal Waiting to Happen

After her last politically minded suitor left her heartbroken and pregnant, Rowena has sworn off the Capitol Hill dating pool. But even she isn't immune to Colin Middlebury's British charms, and his skills extend beyond the political arena.

As a diplomat, Colin has dealt with a lot of demands, but none like Senator Tate's warning to stay away from his beautiful daughter. Colin needs the senator's support, but resistance is futile where Rowena is concerned. What harm could there be in getting to know her a little better? International relations are about to become quite...intimate.
Good book. Rowena has gotten her life together after being something of a wild child. She is running a child care center on her father's estate and caring for her special needs son. I liked the way she was so intent on the care of her son. I also liked the fact that she had a troubled past and had overcome her addictions to become a better person. She had long since tired of the way men tried to use her to get to her father so she doesn't date any more. When she is introduced to Colin there is an immediate attraction between them but she knows better than to give in to it. Colin is in the US to work on a treaty regarding internet security. He is immediately drawn to Rowena but is warned off by her father. He finds, however, that he just can't stay away from her. I really liked the way he continued his pursuit of Rowena even though they had to be careful. I also loved how good he was with her son. There was an immediate connection there, even though Colin had no idea if he would be any good with children. He hadn't had a good relationship with his mother so he is very impressed by Rowena's love for her son. I liked the way that Colin's attentions gave Rowena the courage to finally stand up to her father and take her life back. I didn't like the Senator at all. I also liked the way that Rowena is going to take their relationship slowly to make sure that everything goes smoothly. There wasn't much about the continuing mystery of the president's daughter, but there were a few hints dropped on the progress. I'm looking forward to the next book.