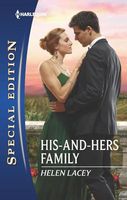 Series: Crystal Point (Book 3)
A LONG-LOST DAUGHTER...AND A NEWFOUND LOVE

Fifteen years ago, Fiona Walsh made a choice: to give her daughter up for adoption. But she'd never given up hope of meeting her little girl. So when opportunity for a reunion came knocking-in the form of her daughter's tall, dark and sexy uncle-she opened the door to her past...and found true love on her doorstep

Businessman Wyatt Harper liked his life carefully ordered, with details falling neatly into place. As Cecily's guardian, her welfare came first. Yet his searing attraction to Fiona turned his entire world upside down-it was unlike anything he'd ever felt "This" could be for keeps. But Wyatt had been burned before, badly. Could Fiona's tender ways win Wyatt's scarred heart-and make them into a family?
Excellent book. I really liked both Fiona and Wyatt. Fiona had given her baby up for adoption because at fifteen she was in no position to raise a child. But she had never forgotten her and always hoped that someday she would see her again. When Wyatt came to her with Cecily's request to meet her, she was stunned and incredibly happy. She was also very nervous and wanted to do everything right to make sure that she was someone that Cecily could be proud of. She did not expect to be attracted to Wyatt and did her best to keep her attention solely on her daughter. She had had a lonely childhood with a horrible mother and wanted to be sure she was nothing like that. She fell for Wyatt very quickly but had no confidence that he would ever feel the same about her. Wyatt never expected to be the guardian of his niece and was determined to make sure that her interests were taken care of first. He wanted to meet Fiona before Cecily did to make sure that she was a suitable person. He was not happy about his attraction to Fiona especially since he had previously had a relationship go horribly wrong. This caused him to be very cautious about trusting any woman. Wyatt also tried to keep his emotions very closed which created a lot of tension between him and Fiona. He also didn't share things about his past which only emphasized his lack of trust, even after Fiona shared her past with him. It got very emotional at the end when they finally talked about their feelings. There were some wonderfully written scenes involving Cecily and her desire to see Fiona and Wyatt together. There was also a fantastic scene with Fiona and Wyatt's ex-fiancee. I've read all three of Helen Lacey's books and loved them all. I'm looking forward to seeing what comes next - M.J.'s story perhaps?