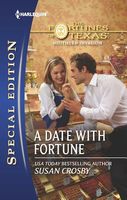 Series:
Fortunes of Texas: Southern Invasion
(Book 2)
THE KEY TO FORTUNE'S HEART

With her luscious chocolate truffles, Red Rock's favorite confectioner, Felicity Thomas, has won the hearts of many customers, but she's never been tempted to give away her own. Until the notorious Michael Fortune saunters into her life. "I've met the man I'm going to marry," she insists that very day. And with Valentine's Day just around the corner, who could blame the innocent beauty for waxing romantic about the sexy Southern tycoon?

"Stay away from her, " everyone warns Michael-but there's nothing the COO hates more than being told what to do. Captivated by the small-town sweetheart, he pulls out all the stops to romance her. Fancy dinners. A limo. A helicopter tour. A private jet to the Caribbean...where Michael gets the surprise of his life...and a whirlwind wedding might just deliver virginal Felicity into his waiting arms!
Very good book. Michael had come to Red Rock to try to talk his cousins into coming back to Atlanta and the family business. He met Felicity the first day he was there and felt an immediate connection to her. It really threw him because he'd never felt anything like it before. But he doesn't believe in romantic love and thinks it is a myth. He believes successful relationships are built on respect and friendship and having things in common. All his family members told him to leave her alone, that he was the type to break her heart. He hates being told he can't do something so he ignores them. Michael finds himself thinking about her constantly and wanting to do things for her. At first he does things like he would in Atlanta, but soon finds that those are not the type of things that appeal to Felicity. I loved seeing Michael as he starts thinking more about her than himself. Felicity is a successful businesswoman who knows what she wants. She is also a great believer in love. She felt the connection with Michael right away also and was convinced she had met "the one". She couldn't understand why everyone was warning her against him because she saw a caring thoughtful man. Both she and Michael end up with some issues they have to face before they can reach their happy ending. I really liked the way that Felicity stood up for herself and her needs. I also enjoyed seeing Michael as he came to realize that his cousins had no intention of returning to Atlanta and how he applied their feelings to his own life. I'm looking forward to finding out more about the reason that sent them all running.