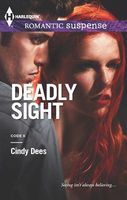 Series:
Code X
(Book 3)
"I have no idea what I'm supposed to do with you."

Since Grayson Pierce's family was murdered, loyalty to Code X -- and a death wish -- is all that keeps him going. But now the hardened agent is facing his riskiest assignment yet.

"Sam," a distractingly sexy operative with supersensitive vision, will need Gray's nearness more than she's willing to admit. But will their combustible chemistry compromise their mission?

It will take all of Grayson's training to stay focused as he and Sam uncover a dangerous high-tech conspiracy. Because he can't risk the consequences to national security…or the woman who's jump-started his will to live.
Very good book and pretty spooky with the story line. Gray is asked to help out his friend Jeff Winston by investigating some odd things that are happening in West Virginia. To help him out Jeff sends Sam Jessup. Gray is expecting a man, not a gorgeous woman with freakishly good eyesight. Because they are in an area where cellphones, computers and other modern electronic devices can't be used Sam's eyesight is what will further their mission. They are also dealing with an intense attraction between the two of them. Gray has been emotionally empty for five years, ever since his wife and kids were brutally murdered. He doesn't want to feel anything but Sam has blasted her way through his walls. From being a loner who doesn't want anyone to depend on him he finds himself wanting to make sure she's safe and cared for. He still refuses to open up to her though and fights his growing feelings. He also feels guilty for having those feelings. Sam has her own issues from the past that she has to deal with. While she hasn't completely opened up her past to him she is a lot more comfortable with their chemistry than he is. I really liked her kick ass attitude and the way she refused to be sidelined by Gray's need to protect her. I also enjoyed their cover story and the way they were "playing house" together. It really showed more about the issues they were both facing and how each was dealing with them. I enjoyed the mystery that brought them there and thought that it was pretty intense. There were a couple interesting twists that kept the suspense going for me. I liked the way that they agreed to continue their relationship to see where it would go rather than moving immediately into marriage. I'd also like to know if Gray is going back to his job or is going to work for Jeff instead. I also had some questions about his boss that weren't answered, but maybe they weren't that important to the story.