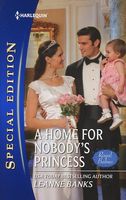 Series:
Royal Babies
(Book 2)
"HOW DOES IT FEEL TO BE A PRINCESS?"

Coco Jordan wished she knew the answer. Discovering she was the illegitimate daughter of the prince of Chantaine took some getting used to--especially when she was working as a nanny on a Texas ranch As much as she tried to focus on caring for baby Emma, her newfound fame kept getting in the way. Until help arrived from an unexpected--and handsome--source...

Widowed rancher Benjamin Garner would do anything for his daughter--even fake an engagement to Coco to keep the paparazzi at bay. Princess or not, Coco's the best woman for his child's needs--and though he doesn't dare think about it too much, probably his own. Soon their "royal romance" is making headlines--but can their all-too-real love survive the pressure?
Very good book. Coco is working as a nanny after the death of her mother. When she learns that her birth father was a prince she is stunned. She also finds out that she has six royal half siblings and a full brother. She would like to get to know her siblings but she is intimidated by the idea of them. She is also being inundated by paparazzi. When Benjamin offers to play the fiance to protect her she takes him up on it.
I really liked both Coco and Benjamin. Coco is a fantastic nanny and is trying very hard to get little Emma used to being around her daddy. She is also trying to get Benjamin used to Emma. The news of her birth parents has surprised her but she doesn't expect it to make a real difference in her life. She would like to get to know her new siblings since they are the only family she has left, but she really doesn't expect anything. The influx of paparazzi has made it hard to do her job and she accepts Benjamin's offer of help. When she is invited to go to Chantaine to meet the family he goes along to support her. I loved her down to earth point of view and how honest she is. She was really disappointed with her first meeting with her sisters and brother. In previous books I really liked them, but in this one Stefan especially was a real stinker. I didn't like the way he didn't bother to try to get to know her. The second meeting went a little better, but Coco was very happy when they left to go back to Texas. Another thing she had to deal with were her growing feelings for Benjamin. There is a strong attraction between them and she has come to love the way he cares for Emma. She also senses that he is trying to resist that attraction. I loved the way that she tries to put Emma and Benjamin first, ahead of the way she feels.
Benjamin is very happy that Coco is there. He got custody of Emma when her mother died and is having a terrible time bonding with her. She screams when she sees him which makes him feel terrible. I loved the conversations he and Coco had about his hat and its effect on Emma. Since his brief affair with Emma's mother he has avoided any kind of emotional relationship with a woman, but being around Coco does something to him. I really liked the way that he offers a pretend engagement to help her with the paparazzi. What he didn't expect was to start developing feelings for her. He could deal with the attraction but the emotions she brought out scared him. He couldn't resist being there to support her. I really liked the way that he faced down Stefan on her behalf. It took him awhile but he finally realized how much he needed her in his life.