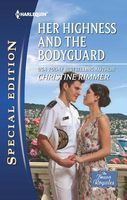 Series:
Bravo Royales
(Book 4)
CALABRETTIS MARRY FOR DUTY -- BUT BRAVO-CALABRETTIS MARRY FOR LOVE

Marcus is the best man Rhia's ever known, and she's never gotten over their breakup. Now, he's practically strapped to her side. It's like a dream come true...or a nightmare. Because Marcus is as stubborn as ever: she's a Bravo-Calabretti, he's a lowly security guard, and they can never be equals. Ever.

Then a breathless night that should have brought closure brings something else: a baby. Marcus insists that no child of his will grow up without its own mother and father. Well, Rhia has her own requirement: her child will be raised on love, not the dry bread of obligation. And Marcus has made it abundantly clear that his duty to Montedoro comes before everything-especially his own desires.
Excellent book. Marcus and Rhia had gotten to know each other eight years before, while she was in college in California and he was taking a class on security. It was a brief relationship because she was a princess and he was a lowly army officer with no idea of who his family was. Now he is one of the family's bodyguards and still feels the gap. Then, mixing one snowstorm and some memories and there is a baby on the way. Marcus refuses to let a child go through what he did and insists on marriage, but Rhia refuses to marry for any reason other than love.
I really liked both Marcus and Rhia. As one of the royal family, Rhia had known nothing but the love and support of her family. Her parents tried very hard to give their children as much of a normal life as possible, and showed them what a loving marriage looked like. When Rhia and Marcus were together she didn't see their differences only the way she felt about him. When they parted ways she tried to move on, but no one was ever able to measure up to Marcus. At one point she went to him and begged him for a chance to try again, but he rejected her. This made things hard for her when he was assigned as her bodyguard. When she became pregnant she was happy about the baby, but not so much about feeling like they were an obligation to him. She refused his proposals because she felt only his sense of duty, not that he loved her for herself. I liked the way that she got him to move in with her so they could get to know each other again. She was also able to show him the importance of sharing their feelings. I also liked the way that as Marcus began to open up to her about his past she started to understand why his attitude was the way it was.
Marcus was a genuinely good guy who suffered from a little too much pride/insecurity. Because he felt inferior to Rhia, though not because of anything she did, he was too proud to pursue her. In the eight years since their initial romance he has come far in the ranks of their army, but he still feels the differences. He fought the attraction as long as he could, but lost the battle the night of the snowstorm. When he found out Rhia was pregnant his first reaction was marriage and was stunned when she refused him - repeatedly. I absolutely loved the scene when he went to Rhia's mother to confess. Watching him try to reconcile his wishes with Rhia's was fun, because I could see that he loved her, but he was fighting the admission all the way. He had also spent so long guarding his emotions to protect himself that trying to share those emotions with Rhia was incredibly hard for him. I loved seeing him relax a little and begin to trust her. The final scene with them was beautiful!