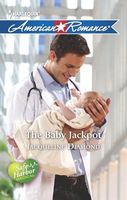 Series:
Safe Harbor Medical
(Book 10)
They Know Everything About Babies...

So why is recently single Stacy Layne suddenly on the mommy fast track? As Safe Harbor Medical's first successful egg donor, she should have known better. That goes double (or should she say triple?) for Cole Rattigan, the country's leading fertility surgeon.

Cole prefers the operating room to figuring out what's going on inside a woman's head. But after an unplanned night of passion with his favorite nurse, the the man who wrote the book on fertility is about to become a father...three times over!

Stacy not only nixes Cole's marriage proposal-she plans to give up the triplets for adoption. Stacy wants to be swept away. Can a man who's just discovering his paternal side find the words to let the woman he loves know how much he cares?
This was a pretty good book. Of the two main characters I liked Cole best. He started out seeming kind of standoffish, but it turned out he was mostly just clueless. He had been raised by a single mother who was a doctor, but didn't really have a maternal bone in her body. He had never been truly exposed to love and felt like he wouldn't know what it was. Stacy is one of his surgical nurses and he really appreciates what a good job she does. A chance encounter makes him realize he's attracted to her, then a combination of an injury and alcohol causes them to act on that attraction. When Stacy ends up pregnant his first reaction is to propose marriage. He is dismayed by her refusal and stated intention to give the children up for adoption. Though he had never seen children as part of his future, the idea really starts to grow on him. He also still feels responsible for Stacy and wants to take care of her. I absolutely loved his way of doing little things to make her life easier and how much he wanted to make it last forever. He really wanted to convince her not to give them up and knew better than to try to pressure her. He also did everything he could to protect her from a media frenzy. I really loved seeing his growth from a somewhat detached doctor to a man who made friends and was able to open up to love. I loved the way that he tried to learn about being romantic from other doctors at the hospital.
I spent most of the book just wanting to shake Stacy. Her divorce had devastated her and she was still trying to figure out what she had done wrong to make her husband stop loving her. She wanted children but because of her current feelings she decided to become an egg donor and use that to help someone else have children. She couldn't believe that she ended up getting pregnant, and with someone she saw as totally unromantic. I thought that she had a really unrealistic idea of what love was and how it was shown. She was determined that if she couldn't offer the babies that ideal family herself she would give them up. I really didn't like the way that she gave Cole absolutely no say in the matter. As time went on she came to appreciate his friendship and care, but she still couldn't see that he was showing her his love also. When she finally learned the truth about some of the things she had seen as romantic it was a real eye opener for her. I liked the ending and how she went about her own romantic statement.
I enjoyed seeing characters from previous books and how their lives are going now. I also enjoyed the set up for the next book and am looking forward to reading that one.