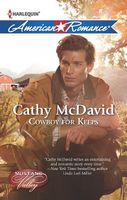 Series:
Mustang Valley
(Book 4)
He's Just A Cowboy

Not by choice, Conner Durham has traded in his suit for jeans and cowboy boots. He's grateful to find work training mustangs-after all, cowboying is in his blood. But for years he's been pulling down six figures working as a systems analyst. Now he's lost his job, his house and his whole way of life. The one good thing that has happened is meeting Dallas Sorrenson, a former flame, again.

Dallas has some surprising news-she's pregnant. It's not the coming baby that has Connor tied in knots, but his current position in the world. Can a successful photographer fall for a lowly cowboy? And what about Dallas' ex-who just happens to be the man who ended Conner's job? The situation couldn't be more complicated...but maybe there's no such thing as a bad time to fall in love.
Good book. The relationship between Conner and Dallas is very complicated. They had dated briefly a couple years before, but grew apart when Conner's work schedule interfered. Then she started going out with his friend Richard. Now Conner has lost his job because of company downsizing and Richard has his job. To top it all off, Dallas is pregnant with Richard's baby, even though they have called off their engagement. When Dallas's job as a photographer and Conner's work as a trainer bring them together they discover that the attraction is still there and stronger than ever.
Conner would like nothing more than to get involved with Dallas. But he has been out of work for six months and is making ends meet by working as a horse trainer for friends. He feels like a failure and his pride won't let him contemplate a future with Dallas until he has a "real" job again. He just can't see that how much money he makes isn't important to Dallas. I liked seeing him with the horses and how patient he was with their training. I loved seeing the work that he did with the injured mare. He was also very impressed with how good Dallas was with her photography and I loved how he was supportive of her work. He also was wonderful with kids as was shown when he was around his friends' kids. He had no doubts that he could be good with Dallas's baby too, but he was also sure that he was unable to provide for them right now. It was hard seeing how much he wanted to be with Dallas but denied himself.
Dallas has broken things off with Richard because she realized she didn't love him. When she discovered she was pregnant he wanted to go through with the wedding anyway. I liked the fact that he stood up to his responsibilities. Dallas loved her work as a photographer and she was trying to get more jobs of the documentary variety. When she was asked to do the photos for a book about the mustangs she was thrilled. She was surprised by her renewed attraction to Conner and not particularly happy about it because she was afraid it might just be a rebound thing. The more time she spent with Conner the more her feelings grew. I loved the way that she could see both the business guy and the cowboy and that she liked both of them. I also liked the way that she tried to show Conner that she had confidence in him. I really enjoyed seeing the way that they worked together using the photographs to help with the horses.
Both of them had issues to be dealt with before they could be together. I liked the realism of the feelings shown. Conner's frustration and feelings of failure were well shown. He also showed his frustration with Richard's continued presence in their lives but knew it was something he'd have to deal with. Dallas had some issues with her stepfather that had colored her view of marriage and blended families. After talking with her mom she too had a new viewpoint on some things.