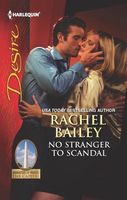 Series:
Daughters of Power: The Capital
(Book 4)
Decorum Vs. Destiny

She might be the stepdaughter of one of the most powerful media moguls in Washington, but Lucy Randall is no pampered princess-she's making her own way as a junior reporter. But when congressional investigator Hayden Black accuses her stepfather of criminal wrongdoing, she shows her family loyalty and takes Hayden on. Then, as things heat up, the sexy single dad takes her to bed! Talk about a conflict of interest. Will their illicit passion turn into something more lasting, even in the face of controversy so huge it rocks a nation?
Good book. I liked Lucy and the fact that she was trying to make it on her own. Her stepfather owns the news station and offered her a job as a full reporter or anchor, but she wants to earn those positions. She is also sure that he is innocent of being involved in the illegal phone hacking that led to the scandal of the president's daughter. When she is called to be interviewed by Hayden she doesn't expect the overwhelming attraction that she felt. Nor does she expect him to be just as attracted as she was. Both of them feel that there are too many reasons that a relationship between them would be a bad idea. Lucy is set on proving Graham is innocent while Hayden is sure he's guilty. Lucy is ten years younger than Hayden and doesn't want another older man running her life. I liked her loyalty to her stepfather. I also liked the way that she decided to work with Hayden to find out the truth even though each believed the truth to be something different. She wasn't happy when Graham wanted her to dig up dirt on Hayden especially as she got to know him better. Both agreed that a relationship wasn't what they wanted, but they had no problems entering into a fling as long as they stuck to the ground rules they set. It didn't take long for Lucy to realize that Hayden was more important to her than just a fling.
I liked Hayden also. After the death of his wife he realized that he didn't like the way she had shut him out of his son's life. He was now going to make Josh the center of his life and not risk giving someone else the same power over Josh's life. His attraction to Lucy is very unwelcome and distracting. His main focus has to be on finding the truth behind the phone hacking and being with Lucy is definitely a conflict of interest. I really loved the way that he was so intent on being a good father and how much he obviously loved Josh. I also liked the way that he included Lucy in some of the things he did with Josh even though he was insisting that a relationship was impossible. He was fighting his feelings hard but it became obvious to Hayden that he cared more than he should. I also really liked the way all of his investigating was done within the law, unlike what the news station did.
There was a really interesting twist in the investigation that I didn't see coming. I'm also looking forward to the next book to see what happens with the news station and the continuing investigation.