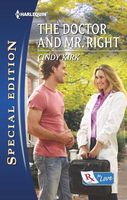 Series:
Rx for Love
(Book 8)
A PRESCRIPTION THE DOCTOR NEVER KNEW SHE NEEDED!

Michelle Kearns has a simple credo she lives by: no domestic complications! But the Jackson Hole obstetrician's "no kids" rule is tested to the max when she meets her sinfully handsome new neighbor. Because there's just one thing wrong with the heart-meltingly perfect construction engineer: his teenage daughter!

Gabe Davis can't quite understand the sexy doctor next door. After all, Michelle's life revolves around babies. And the willowy blonde beauty is a natural with Gabe's young daughter. Doesn't Michelle realize that family is what it's all about? Try as she might, she can't ignore the sparks igniting between them. It couldn't be a more ideal prescription...for happy ever after!
Very good book. I really liked both Michelle and Gabe. There was an immediate attraction between the two but both had been hurt in the past and were intent on protecting their hearts. Michelle had been married to a man with two teenaged daughters. She really liked the girls and wanted to be a mother to them, but they were very resistant and had been unbelievably rude and hostile to her. Her ex-husband hadn't been any help. So she was determined that she would never get involved with a man who had kids again. But when she met Gabe it was hard to remember that vow. She fought the attraction, but living next door to him and his daughter and having many of the same friends put them in frequent contact with each other. She also found herself growing closer to Finley and liking her a lot. She and Gabe found their attraction too hard to resist, but agreed that neither wanted a relationship so they would indulge themselves without expectations. Of course their feelings didn't pay attention to that decision. Michelle was still very wary of involvement but frequently found herself dreaming of what might be. I really loved seeing Michelle begin to get over her fear of falling for a man with a child. She had so much love to give and she was really good with Finley. I really liked the way that she stepped in at the end.
Gabe had become a single father at the age of eighteen. Finley's mother hadn't wanted to be a mother at all and deserted them both when Finley was two months old. Gabe gave up everything to be her father for real and made sure that he never got involved with someone who didn't fully accept that he and Finley were a package deal. I really loved the relationship that the two of them had. He was a firm but loving dad and it was easy to see the love they shared. When Gabe met Michelle he was interested in her but not ready for a relationship yet. He wanted to get settled into his job and new life before taking that step. They quickly became friends but the attraction grew quickly too. I liked the way he said he would be fine with the arrangement that they had but that he soon realized it wasn't enough for him.
Finley was a typical teenager in some ways. She had a fantastic relationship with her dad, but she also had some self worth issues because of her mother's actions. She too had a need to protect herself and her father which is why she did some of the things she did. It was heartbreaking at times to see the way she felt.