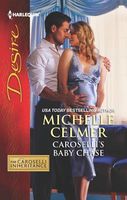 Series:
Caroselli Inheritance
(Book 2)
You can't start the New Year without a kiss."

When those words lead to a delicious one-night stand, consultant Caroline Taylor's fate is sealed. Because she soon finds out her seducer is Caroselli Chocolate's marketing director-and her new job is to overhaul his division. It leaves a bad taste in her mouth-and what if she's pregnant with Robert Caroselli's baby?

If necessary, Rob will do right and make his dreamy corporate nemesis his wife. He might even inherit millions if he produces a male heir. But his marriage plan will never succeed without the secret ingredient-true love.
Good book. It starts out with Rob getting talked into going out on New Year's Eve with a woman he'd been casually dating, and who ended up leaving with someone else. He wasn't in a great mood anyway. As marketing director for the family business he had just found out that an outside consultant had been hired to come in and make changes. When he's approached by a gorgeous woman he decides to stick around a little while and ends up sleeping with her. He was not too happy to find out later that she was the new consultant. I liked both Rob and Carrie but they certainly had some issues to deal with.
Carrie was a strong, independent career woman. After one bad experience she has made it a rule to not get personally involved with any of her clients. When she finds out her New Year's fling is Rob Caroselli she is not happy. When he tries to convince her, then intimidate her, into not taking the job she stands up to him.
She makes it clear to him that it won't happen again. At this point she doesn't like him very much but is still incredibly attracted to him. She blames it on the fact that she always seems to go for the jerks in relationships. But as the days go on she discovers that he's not the jerk she thought he was, and that he's actually pretty darn nice. She also found herself giving in to the attraction as she and Rob work together during the day and explore their growing feelings after work hours. I also liked the way that she enjoyed getting to know the other members of the family. It gave her a taste of something she had not been a part of before. I also liked her friendship with Alice and how they were there for each other.
Rob definitely started out looking like a jerk. Between his sneaking out on Carrie without so much as a note, then his attitude when he saw her again, I wasn't sure I was going to like him much. But after that first bump, especially when we find out why he's been so grouchy, his attitude definitely improves. He still is attracted to Carrie, but he's willing to try to play by her rules. When they finally decide to quit fighting the attraction he treats her pretty well. I like the way he admits to his growing feelings for her and starts thinking about a future with her. I loved his two conversations with Nick (from Caroselli's Christmas Baby) at the end.
There is also a secondary story dealing with a possible ghost in the house where Carrie was living that has not been resolved. I hope there's more about it in the next book.