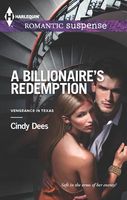 Series:
Vengeance in Texas
(Book 3)
KEEP THE DAUGHTER OF YOUR ENEMY CLOSER

Kindergarten teacher Willa Merris has never wanted her father's lavish lifestyle. But when he's murdered, she becomes the executor of his estate. To add insult to injury, Gabe Dawson-her father's nemesis-informs her that she's on the brink of financial collapse. Willa doesn't trust him-or herself...not to run her hands over his chiseled physique.

Billionaire Gabe Dawson still remembers the gawky teenager Willa was. But that awkward girl is now a sultry, beautiful woman. Gabe knows he should keep his distance, but he can't, especially when peril is in hot pursuit. Now he'll risk his own life to protect the woman he's dangerously falling for....
Very good book with the action starting from the beginning and not letting up atall. Willa is a kindergarten teacher who tried to stay as far away from her father's political life as she could. When he is murdered she becomes executor of his estate and is also named to finish out her father's term as senator. Then she is visited by Gabe who is a former friend of the family who later became her father's archnemesis in business who tells her that her father's business is in financial trouble. To top it all off someone has been breaking into her home and is apparently trying to kill her.
I really liked both Willa and Gabe. As a teenager Willa had a massive crush on Gabe. Now he has come to her rescue and the attraction is still there. She isn't sure at first if she should trust him, but it doesn't take long for him to win her over. I really loved her strength of will. Besides dealing with all the stuff from her father's death, she is also recovering from being raped by a family friend. I loved the way that she immediately feels safe with him. I also really enjoyed the way that she now takes the opportunity to move out of her father's shadow and become her own person. She also makes the decision to go after what she wants, which is Gabe. Besides the physical attraction, which is intense, she also discovers that she likes him and those feelings only grow. She wants more with him but she doesn't know what to make of his relationship with his ex-wife.
Gabe was great. He was older than Willa and noticed her as a teenager, but was aware enough of the age difference that he worked very hard to to let it show. He was also intimidated by the difference in their circumstances that he would never do anything about it. I loved the way he came to her rescue and that he went into protector mode. He still felt that he was not good enough for her but was drawn to her anyway. I really loved everything he did for her and how it showed how much he cared. He also did a wonderful job of supporting her in her activities and showing her what she was capable of.
The mystery of his ex-wife's kidnapping and the murders goes on. I have some suspicions about the kidnapping and I can't wait to see how it plays out. The mystery of who was attacking Willa and why was well done, though not entirely a surprise. I'm looking forward to the rest of the series.