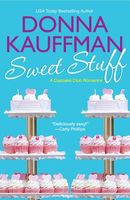 Series:
Cupcake Club
(Book 2)
Double Fudge...Toasted Coconut...Key Lime...Strawberry Cream...
Every bite is a mouthful of heaven.
And the women of the Cupcake Club are bringing their appetites ...

Riley Brown never imagined she would find her bliss on Georgia's quiet Sugarberry Island after years of Chicago's city life. With a new career and fantastic new friends, she's got it all -- except for eligible men. But a gig staging a renovated beach house delivers a delicious treat -- six feet of blue-eyed, gorgeous writer as delectable and Southern as pecan pie. Quinn Brannigan has come to Sugarberry to finish his latest novel in peace, and suddenly Riley has a taste for the bad boy author that no amount of mocha latte buttercream or lemon mousse will satisfy ...

Riley's friends are rooting for her to give in to her cravings and spice up her life, but it's Quinn who needs to learn that life's menu just might include love, in all its decadent, irresistible flavors...
I didn't realize when I started the book that it was the second in the series, but it didn't affect my enjoyment at all. I thought it was a good book, a sweet romance with just enough heat to make it interesting. Riley came to Sugarberry Island to recover from a romance gone bad. What she found there was a group of good friends, a new career, and a community that cares. She is enjoying her new job staging houses, which is how she meets Quinn. She is a bit of a klutz and always seems to have scrapes and bruises. She was staging a house a managed to hurt herself as Quinn arrived. She was immediately attracted to him, but since he's a famous author she figures he'll have no interest in her.
Quinn had spent summers on Sugarberry Island with his grandparents when he was younger. When he ran into problems writing his latest book, he came to the island looking for the peace and quiet he needed. He definitely wasn't looking for a distraction like Riley, but he couldn't stay away from her.
I really liked both Riley and Quinn. Riley's lack of self esteem bugged me but it was totally understandable. Her ex-fiance had done a real number on her and she was still recovering from it. Her immediate attraction to Quinn really worried her because she wasn't sure that she was ready to take and chance and risk her heart again. I really liked her outlook on life and how cheerful she usually was. I also liked the way that she was able to talk so openly with Quinn without the usual guy/girl games that go on in relationships. She had a lot of inner turmoil as she had to decide if she was willing to pursue what she and Quinn could have together.
I thought Quinn was a really nice guy. He wasn't one of those celebrities that had to be the center of attention. He was dealing with trying to figure out if he wanted to take his writing in a new direction. He knew that he could write what his readers expected, but the characters were calling for something else. He had to make a decision soon and Riley was a distraction he didn't need, but couldn't resist. I loved the way that he saw the real Riley and liked her, klutziness and all. I also liked the way he didn't push her, but was honest about his feelings and gave her the space to decide. I loved the way he told her about the problem with his book and how her point of view helped him so much.
The interactions between the two of them were fantastic. Whether they were deep conversations about their feelings or lives or just fun times with Riley's dog, it was obvious that they really understood each other. The sexual tension was there also, but it didn't overwhelm the rest of the story.
I also really liked the other characters in the book. It was obvious that they were all good friends and I loved the way that they looked out for each other. Some of the things Alva said were not expected from an elderly Southern lady which made them so much more fun. I also loved the dog, Brutus, and how his antics added to the fun between Riley and Quinn. I'm looking forward to the next book in the series.