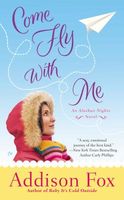 Series:
Alaskan Nights
(Book 2)
How do you say no to a man at thirty-thousand feet?

When Grier Thompson is called to Indigo, Alaska to deal with the estate of her late, estranged father, the last thing she expected to find was a hotly contested will, a hostile half-sister who never knew Grier existed, or for that matter, an entire town that doesn't take kindly to this stranger. Except maybe for Mick O'Shaughnessy.

An Indigo native, Mick has all he wants in life: a soft flannel shirt, a nice cottage, and a thriving airline charter business. Could this simple life get any better? One look at Grier and Mick discovers the answer is a resounding, "yes." She thinks so too -- and if it weren't for her family baggage, maybe she could relax and enjoy herself before it's time to return to real life.

But then an unexpected visitor from Grier's past unsettles the entire town just when the residents were finally starting to warm to her. By the time Mick comes out of the clouds to realize he's fallen head over heels in love, it might be just too late to win Grier's heart.
Excellent follow on to Baby It's Cold Outside. Grier is in Alaska to deal with her inheritance. When she first arrived in town her half-sister was hostile and is contesting the will, the townspeople were taking Kate's side, and she was still dealing with the breakup with her fiance. She is attracted to Mick, but feels that there is no use starting anything when she'll be leaving to go back to New York. Mick is attracted to her too. There is something about her that just makes his life complete and he doesn't want her to leave. I loved both Grier and Mick. Grier has spent her whole life knowing nothing about her father as her mother refuses to speak of him at all. Her mother was also not a very loving woman so Grier has been pretty starved for affection. She is somewhat jealous of her half sister's relationship with their father, but can't get Kate to even talk to her about him. All she really wants is a chance to get to know who he was and make some kind of a connection with her roots. The more time she spends in Indigo, the more the people come to know and like her. I loved the way that she is able to connect to people. She is a warm and friendly person and pretty soon the townspeople are on her side. She has a hard time resisting her attraction to Mick, especially when he is working so hard to keep it going. Thanks to her feelings of rejection from both her parents she doesn't feel like she deserves to be loved and this makes her try to keep Mick at arm's length. I loved the way that the grandmothers and others kept trying to push them together. I also loved the way that her friends Sloan and Avery kept pointing out how perfect she and Mick were together. I also loved the way that her need for something to do led her to a job opportunity that she didn't really recognize until the very end.
I loved Mick so much. He was the perfect match for Grier. He was smart and nice and had a great sense of humor. He was also determined that Grier would see that they had something special that should be pursued. He too had some demons in his past that he did his best to keep buried. He had a tendency to push Grier to face her problems while ignoring his until she called him on it. I liked the way that she was able to help him with his demons and did her best to keep him from shutting her out. I loved seeing how wonderful Mick was with his grandmother even when she was driving him nuts. He was also great at being there for Grier when she needed him. I loved the concluding scene at the town council meeting.
The secondary story with Kate and Jason was pretty good. I was glad to see that things got a bit better between Kate and Greer. I also loved the set up for book three with Avery and Roman, and how Avery is going after what she wants. I loved the way that she stood up to him. There were some great emotional moments with Grier learning more about her dad and also finally being able to talk to her mother about him. I can't wait to read the next book.