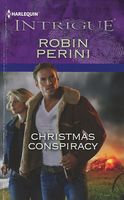 A ROYAL LEGACY WILL REUNITE HIM WITH HIS PAST -- AND MAKE FOR ONE MEMORABLE CHRISTMAS...

Four years ago, girl-next-door Kat Nelson had gone from being a tempting assignment to the fling P.I. Logan Carmichael never forgot. Now he'd been hired to find her by a king claiming Kat was heir to the throne. Locating her wasn't difficult. Learning he was the father of her toddler twins, however, made him ache. But his job was to protect her from a madman who wanted her dead, and keep her away from the king who needed her alive. And yet one look at his children made the steely CIA vet yearn to be more than just a bodyguard. Defusing bombs and taking out terrorists wasn't as scary as being a father -- and didn't get his heart racing as much as the thought of spending every night by Kat's side.…
Good book with non-stop action. I really liked both Kat and Logan. Kat was a single mother struggling to raise her twins. She had met Logan and fallen for him but got scared by the intensity of her emotions so she ran. Now he's back in her life, protecting her and their children from someone who wants to kill them and the father she never knew who wants her to be a queen. Because of her poor childhood she never felt like she was good enough for Logan. She was intimidated by his wealth and education. But once they met again she couldn't deny that the feelings were still there. She also couldn't deny that he was turning out to be a fantastic father. For all of her self esteem issues, Kat was an incredibly strong person. She had no problem standing up to anyone when it came to protecting her kids. She was also able to keep her head in tense situations. I liked the way that she started to open herself up to Logan and see the possibilities of a future together.
Logan had met Kat when he was hired to find her by her father. He didn't expect to fall in love with her and when she ran he was devastated. Now he's back and must protect her and the kids he never knew about. I loved seeing the way he was so nervous around them, but he was also so good with them. He seemed to take to being a father very quickly. He was very worried about keeping them safe, even when he got them to his ranch. I loved his strength, but he also had a vulnerable side. His mother had left them when he was a kid and he was abused by his father. After having lost her once, he was a little hesitant to trust his heart to Kat again, but he couldn't help it. He also had his feelings of not being good enough because of her royal heritage.
There was a lot going on in this book. There were so many characters and threads that it was sometimes hard to keep track of who was who and who they were working for. But it certainly made for an exciting book.