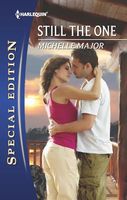 THE ONE WHO GOT AWAY

Only a distress call could summon Lainey Morgan back to the small hometown she had run from, leaving her family-and the man she adored standing at the altar. Yet even fame as a globe-trotting photojournalist couldn't erase the pain of losing the baby Ethan Daniels had been marrying her for. Still, he always had been the best veterinarian around-and the stray dog that had attached herself to her needed attention. Almost as badly as she did...

As for Ethan, Lainey was driving him crazy all over again, and ten years away had only made him want her more. She had done the unforgivable, true, but he was beginning to discover that she had suffered more losses than even he knew about. Both of them had done some growing in the past ten years. Maybe a second chance at forever could be theirs after all....
Excellent book. Kept me turning pages and had several spots where the tissues were definitely needed. Lainey came back to her small town to help out her mom who had had a stroke. She didn't want to be in contact with Ethan again, but he was the vet and she had a sick dog. She was also the one that would be planning the big pet adoption event that he is involved in also. Ethan is surprised at her return and even more so by the feelings he still has for her.
I really liked both Lainey and Ethan. Lainey reluctantly came home because she knew that the people in her small town still felt strongly about the way she left. She had loved him from the time she was a teen, but with the loss of the baby she didn't feel right keeping Ethan tied to her. She still felt guilty about the way she left and the trouble she had caused her family. These issues had kept her running and avoiding commitments. I loved seeing her face her past and reconnect with Ethan. There was a lot of tension between them that slowly got resolved as they spent more time together. I also loved seeing Lainey's growing relationship with the stray dog she had acquired and how it demonstrated her growing ability to open her heart back up to love. Her relationships with her mom and sister were also very well done and I loved the way that both sides of the issues were shown.
Ethan had stayed in his home town but had never formed any close relationships since Laney left. His mother had left when he was young and Lainey's departure only made him feel that he was never meant to have that kind of family. He had wanted it very much and had come to love Lainey but never told her so. He put everything he had into his work as a vet. When Lainey returned he realized that he had never stopped loving her. As they worked together he began to see that there was more to her than he had realized when they were young and he came to love her even more. There was a twist at the end that made things even more emotional for him.
I loved how well all these characters were done. Every one of them felt real to me with believable actions and emotions. The small town was great and the people were portrayed so well with their actions and attitudes. I loved the scene after the fire. I also loved the dog Pita who did exactly what was expected - wormed her way into hearts and opened them up.