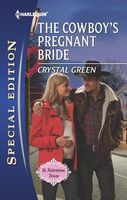 Series:
St. Valentine Texas
(Book 3)
FROM DRIFTER TO DADDY?

Minutes before saying "I do," Annette Olsen realized her mistake and bolted-a wedding gown in her trunk and a baby in her belly In St. Valentine, she found the perfect place to start over...until a handsome drifter blew into her diner, setting the town abuzz with gossip and her heart aflutter with impossible dreams.

Jared Colton wanted only to find his ties to the town's legendary founder and move on through. But something about Annette got to him. Maybe it was the secrets she kept, or her tender touch, or how much she needed him. Or maybe it was the spark of longing her tender kiss awakened in his soul. Either way, Jared found himself wishing for what had eluded him-a family, with Annette and a baby he'd claim as his own....
Good book. I liked both Annette and Jared. Annette had come to St Valentine to start a new life. After finding her fiance having sex with a bridesmaid right before the wedding and watching him almost hit her, she got out fast. Now she's working as a waitress and keeping a low profile hoping he won't find her. She is determined to make it on her own and not be dependent on anyone else. When Jared first started coming to the diner she was as curious as everyone else about his resemblance to the town's founder but she also sensed his need for privacy. When she found a journal that belonged to Tony I liked the way that she gave it to Jared rather than the local reporters. It also gave her the chance to spend more time with him as he tried to see if there were more things where it came from. I loved the way that she could see that there was loneliness in his eyes and how she was able to reach him. Annette was still trying to protect herself but I loved the way she was able to open up to Jared and show that she trusted him. I also loved the way she was able to show him that what happens in the past doesn't have to define your future.
Jared was a great dark and brooding hero. He had come to town looking for answers about his family. For all that he gave the appearance of being withdrawn and uncaring, his visits with his grandmother showed that he did have a great capacity for love. But he had been a drifter for so long that he didn't think he was capable of being more for someone. He had been drawn to Annette for a long time, but was able to bury those feelings until he started spending time with her. I really liked seeing the way that she got to him and he couldn't stop thinking about her. I loved the way that he stepped in to help her with things but with no expectation of getting anything back. His surprise at the way she seemed to understand him was a bit heartbreaking at times. He had had so little love in his life that he didn't know what to do with it when his feelings for Annette grew. He also worried that his search for the truth about his connection to Tony would unearth things that would tarnish his reputation as the founder. When he was finally able to open up completely to Annette he was stunned by what a difference it made to dispelling the dark void he felt inside. I loved his rescue of Annette at the end and how it cemented their feelings for each other.