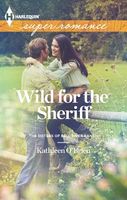 Series:
Sisters of Bell River Ranch
(Book 1)
When temptation calls

Sheriff Dallas Garwood has followed the straight and narrow all his life. The one exception? When he tangled with Rowena Wright. The experience had lasting consequences he'd rather not repeat.

That may be easier said than done. Rowena is back, set on restoring her family's ranch to sell it. Is this Colorado town big enough for the two of them? Not the way his nine-year-old son keeps sneaking onto her land, forcing Dallas into her company. Every one of those encounters sparks an urge in him to tangle with her again. This time he'll call the shots-and be the one to leave. But he doesn't expect all these powerful emotions...and he's not sure he can walk away.
Very good book. Rowena has returned to Bell River Ranch after sixteen years away. Her plans are to fix it up to sell it. Having had the reputation of a wild child she doesn't expect to be welcomed back by the people of the town. Neither does she expect to be welcomed by Dallas, who her father shot when he found them together. I really liked both Dallas and Rowena. Rowena has some serious issues to deal with. The ranch is the place where their father murdered their mother, then she and her sisters were sent to live with relatives. Her feelings have kept her from settling anywhere for long which has also caused tension between her and her sisters. I loved the way she settled in at the ranch so quickly. She also made friends with Bonnie, a young woman looking for a job and a place to stay, recognizing that Bonnie had secrets of her own. She also made friends with Alec, Dallas's nine year old son who loves hanging out at the ranch. I loved seeing her start to put down some roots, even though she kept insisting she was going to leave. I also loved the dreams that she started to have about the future of the ranch and the way she started to go after them. She also discovered some information that really shook her up and almost wrecked her dreams.
I loved Dallas and his calm temperament. He was dealing with raising his son as a single parent after his wife walked out on them. He was also dealing with his younger brother, who he saw as rather irresponsible, and trying to get him to taking charge of his own life. I really liked seeing the way that he dealt with the various problems as sheriff and how he could see the humor in some of the situation. He was also trying to do the best he could with Alec, who didn't always make things very easy for him. Dallas had never forgotten Rowena and when she came back the attraction flared back to life. I also really liked the way that he was able to see under the outer shell she showed everyone and saw the scared woman underneath. He did a great job of being there when she needed him. I loved seeing Rowena come to terms with her past and be able to make a grab for her future.
The secondary characters were all well done also. I'm looking forward to Bree's story in hopes that she can redeem herself a bit. I really didn't care for her at all with her attitude toward Rowena. I also hope that there will be more about Bonnie and Mitch, because I'm really curious about her story. I'm looking forward to the rest of the series.