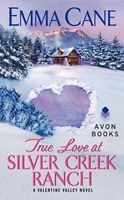 Series:
Valentine Valley
(Book 2)
Welcome to Valentine Valley, where tongues are wagging now that the town bad boy is back--and rumor has it the lean, mean former Marine is about to lose his heart But like it or not, in a town like Valentine, love happens . . .

Adam Desantis is back--bruised, battle-weary and sexier than ever. Not that Brooke Thalberg is in the market. The beautiful cowgirl of Silver Creek Ranch needs a cowboy for hire, not a boyfriend--though the gaggle of grandmas at the Widows' Boardinghouse thinks otherwise. But from the moment she finds herself in Adam's arms, she's shocked to discover she may just want more.

Adam knows it's crazy to tangle with Brooke, especially with the memories that still haunt him, and the warm welcome her family has given him. But he finds himself in a fix, because tender-loving Brooke is so much more woman than he ever imagined. Can a soldier battling demons give her the love she clearly deserves?

Just about everybody in Valentine thinks so!
Good book. I really liked both Brooke and Adam. Brooke is happy working her family's ranch and is very good at what she does. Working with her two brothers she has to be strong and pretty forceful to hold her own with them. When Adam shows up just in time to help her rescue some horses from a burning barn she is happy to see him, but not expecting the shot of attraction she feels. She remembers him from high school when he was pretty full of himself and doesn't expect him to have changed. When her father hires Adam to help out on the ranch Brooke finds that working with him isn't so bad. He's a lot quieter than he used to be and willing to do whatever is needed. She finds that the more time she spends with him the more she likes him and the hotter the attraction burns. She doesn't feel right starting something with a man who is an employee of the ranch, but it becomes too hard to resist. She tried to convince herself that they were just having a nice quiet fling, but her feelings grew stronger. I thought she was a little too worried about appearances but it did add a bit of intrigue to the story.
Adam had come back to Valentine Valley to check up on his grandmother who appeared to be having some health issues. He is still dealing with the memories from his last tour in Afghanistan and the guilt he still feels. Now that he is back he has become something of a loner because he doesn't want to talk about his time overseas. He is happy to have the job as a ranch hand as it gets him away from his grandmother's meddling, but he is having a hard time resisting Brooke. The more time he spends with her the more content he is to be back in Valentine Valley. Pretty soon he is even able to open up to her about his memories and feelings about his friends. He finally realized that his feelings for Brooke had gone past simple lust and friendship. Now he just had to get over his feelings that he wasn't good enough for her. I also enjoyed the bits of his past that worked their way into the story through reminiscences of other people in the small town.
Besides the romance between Adam and Brooke, I really enjoyed the antics of the widows. They have set their sights on getting a new woman owned business approved for the town. It is a women's clothing/lingerie store called Leather and Lace and has a lot of support, but there is a contingent that is trying to ban it on moral grounds. I loved the way that the widows organized a demonstration in support of the store. I also liked the way that Adam's grandmother was working to keep Adam in town.
I also liked the way that Adam and Brooke got involved with the teenagers of Valentine Valley. Adam remembered what it was like to be the bad boy and what a difference it made to have an adult take a real interest in him. He did a great job at relating to Tyler and helping him over come his problems. Brooke discovered that she has a talent for teaching and looks at expanding her duties at the ranch to include those abilities. I really enjoyed the way that she worked with Steph to help her adjust to the appearance of a half sister and also assist her in helping her friend Tyler. The small town may be good a nosiness but they are also good at helping out where they are needed. I'm really looking forward to the next book.