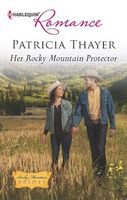 Series:
Rocky Mountain Brides
(Book 4)
He's brooding, wary..but underneath lies a good heart.

With his military dog in tow, ex-soldier Grady Fletcher plans to keep his troubled mind occupied while staying on his grandfather's property-until it's time to move on again.

Single mom Gina Williams is usually wary around men. Yet she gets the distinct feeling that beneath Grady's rugged, guarded exterior lies a kind, honest, trustworthy man.

So when Gina's little boy goes missing there is only one person she'll turn to for help-a man whose survival instinct is as strong as his heart....
Good book. I was glad to see Lori's sister Gina get her own story. Gina came to Destiny with her son to get away from her ex-husband who abused her. Then her ex showed up and kidnapped her son. Grady and his dog Scout were able to track Zack and bring him home. I really liked both Grady and Gina. Gina had the courage to get herself and her son away from her ex and start a new life. I loved the way that she was determined to stand on her own feet. She also was doing her best to give her son a normal life now so that he could be a kid again. She was surprised that she was so comfortable around Grady considering that she had trouble trusting men now. I liked the way that she was so tuned in to Grady's feelings and could tell when he was uncomfortable. I really liked the way she didn't push him to be something other than he was, but that she was not going to be pushed away either. Grady felt and acted like a loner. He had been married once but it didn't work out. He blamed himself and was sure that he wasn't meant to have a family of his own because of it. It was easy to see the nice guy under the gruff exterior. He didn't hesitate to jump in and help with the search for Zack and he was instrumental in capturing Gina's ex. I also loved how good he was with the dogs and how obvious it was that he cared for them. He was also great with Zack, not talking down to him and making sure he understood the responsibilities of caring for a dog. He kept insisting he would be leaving as soon as his grandfather was well enough, but he could also see that deep down he didn't want to go. He was afraid to hope that he could have a normal life. I loved the way that everything worked out for both of them.