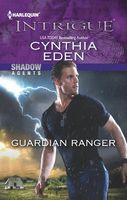 Series:
Shadow Agents
(Book 2)
"Trust me."

The Last Chance bar was Veronica Lane's last hope. Desperate to find her missing brother, the sheltered computer programmer turned to Jasper Adams--the man she'd been warned to stay far away from. Veronica knew she was putting her life into the hands of the former Army Ranger, who aroused desire she had to resist at all costs.

Posing as a ruthless mercenary was a cover for what Jasper was really doing: hunting a killer. And Veronica was in the line of fire. The soldier-turned-elite-ops-agent knew he was playing a dangerous game--trying to win her trust while deceiving her about his true mission. What would happen once Veronica discovered that everything about him was a lie...everything except his passion for her?
Very good book, definitely intense. I really liked both Veronica and Jasper. Veronica knows that there is something wrong when she doesn't hear from her brother for six months. He has always managed to stay in touch with her before. So she goes looking for help from Jasper, an old army buddy of Cale's. She doesn't know that Jasper is part of a team that is already looking for Cale, who is believed to be killing their fellow agents. When she meets Jasper not only is she immediately attracted to him, she also trusts him. As they begin their search other murders happen and she ends up in the crossfire. When the truth about his presence comes out she is hurt and furious. She also keeps insisting the Cale is innocent. I loved her intelligence and ingenuity as she used her brain to work to find and clear her brother. She also had a core of strength that was unexpected to people who didn't know her. She had a deep sense of loyalty which even extended to Jasper even when she was mad at him. I also liked the way that his past and his profession didn't diminish her feelings for him.
Jasper was great. I liked the fact that he really didn't want to believe that Cale had betrayed them all even when all the evidence was pointing that way. He was determined to find him though, no matter what it took. He didn't expect Veronica to come to him with her plea for help and he sure didn't expect the intense attraction that he felt. He was also quite certain that he wasn't anywhere near good enough for her and tried very hard to resist the attraction. That got harder when she became a target in the mess that was going on. At that point his focus turned to keeping her safe first and finding Cale second. I loved seeing him stand up to Logan about her. I also loved seeing him open up and begin to accept that he might be able to win the girl. His part at the end was very well done.
The suspense story itself was great. The action was pretty much non-stop. I liked seeing the other members of the EOD team again and how they were still working on finding out who was trying to take down the EOD. There were plenty of intense scenes while trying to figure out who was behind these murders. Just when I thought I had it figured out there were a couple twists thrown in that made me wonder. I also enjoyed the buildup to Gunner and Sydney's story - can't wait to read that one!