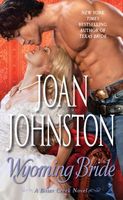 Series:
Mail Order Brides
(Book 2)
CAN SECRETS AND SECOND CHOICES EVER LEAD TO LOVE?

After three months in a mail-order marriage, Hannah Wentworth McMurtry is a widow -- pregnant, alone, and near death in the Wyoming wilderness. Though she is saved by a man with a face cut from stone, she still grieves the husband who died on their journey west. Hannah needs a husband, but does she dare marry another stranger?

Flint Creed has also lost someone he loved -- when the woman he hoped to marry chose his younger brother instead. Now he must find a ranch wife of his own. But every female in the remote Wyoming Territory is too old, too young, or already married . . . until he discovers Hannah on the prairie. Flint doesn't pretend to love her, but he doesn't tell her he loves another woman, either. Hannah doesn't pretend to love him, but she doesn't tell him about the child she carries. Though danger surrounds them on the Wyoming frontier, the greatest threats of all are the secrets within -- revelations that could destroy the new life Hannah and Flint have begun to cherish.
Good book. Hannah becomes a mail order bride in order to get herself and her two sisters away from the orphanage where they have been living. On their journey west her husband dies, and they are attacked by Indians, leaving Hannah alone in the wilderness. She is rescued by Flint and taken to his ranch. Hannah knows she needs another husband to take care of her and her baby to be, and when Flint offers to marry her she accepts. Flint is in love with the woman his younger brother is going to marry. He figures the only way to survive living on the same ranch is to get himself a wife of his own. When he finds Hannah it's like the answer to a prayer.
I really liked Hannah a lot. Although she had dreams of finding her Prince Charming, she put them aside in order to save herself and her sisters. She had the inner strength to handle the journey west and try to keep her sisters in line. When they were on their own she was the one that kept things together. When she struck her bargain with Flint, she made sure he didn't walk all over her. She had conditions of her own and stuck to them. She didn't tell him at first that she was pregnant because she was afraid he wouldn't marry her. As time went on she found that there was a lot about Flint that she really liked. She was also very attracted to him. She wasn't happy when she found out he only married her because he was in love with his brother's fiancee. She grew to love him, but wouldn't tell him so because of his feelings for Emaline. I enjoyed seeing her stand up to him. I also liked seeing her adapt to the ways of the west and become an even better person.
Flint was a little harder to warm up to. As the older of the two brothers, he was used to being in charge and often treated his brother Ransom like he wasn't too smart. He had fallen in love with Emaline, but she only had eyes for Ransom. When they became engaged, Flint decided he needed to find a wife of his own to keep him distracted from Emaline - not the greatest reason to get married. When he rescued Hannah he was drawn to her and offered to marry her more as a convenience to them both than anything else. He spent most of the book basically worshipping Emaline as a goddess on a pedestal while blowing off his own wife. He wasn't deliberately cruel, just thoughtless. It was interesting to see him try to reconcile his growing feelings for Hannah and his "love" for Emaline. There were many times that it was obvious that he was coming to love Hannah, but he just couldn't see past his idealized version of Emaline.
The secondary romance between Emaline and Ransom was well done. She had some serious issues with the realities of being married and seeing her try to convince Ransom to her way of thinking was pretty funny. She and Ransom both showed some good character growth, though Ransom still has some maturing to do.
I enjoyed the cattle ranching aspect and seeing the interactions among the ranchers. The problem of the missing cattle and the bad guy was very good. I liked seeing the ranchers' meeting and how things were handled there. The culmination of the conflict was good, though I'd like to know what happened to that ranch next.
Overall a good book. I'm looking forward to Hetty and Josie's stories.