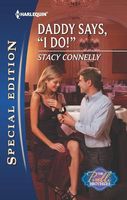 Series:
Pirelli Brothers
(Book 2)
CAUTION: SHARP CURVES AHEAD!

Sam Pirelli likes his women the way he likes his cars: fast and fun. He likes his life of carefree detachment. He likes driving the open road with the wind in his hair. He likes never knowing what is around the next curve-such as the gorgeous blonde with the flat tire-a perfect opportunity to show off his "shining armor"!

Practically speaking, straitlaced, responsible Kara Starling is no damsel in distress. She'd come to Clearville to introduce an unwitting Sam to his son-the product of a past romance. Stunned by her intense attraction to him, Kara is both intrigued-and a little concerned. Would she be consigning a child to life with a playboy daddy? Or is Sam's good-time exterior hiding the perfect father-and the man of her dreams?
Very good book. Kara has come to Clearville to introduce Sam to his son, a son that her sister kept a secret from Sam. But Kara is a cautious sort and wants to be sure that Sam is capable of caring for a little boy before she'll willingly give him up.
Both Kara and Sam have some issues they will have to deal with before they reach their happy ending. Kara is a woman who has spent her entire life trying to live up to her parents' expectations. They were rather emotionless, self-centered people in my opinion, and nothing Kara did ever seemed quite good enough. They couldn't even be bothered to support her during a personal tragedy she suffered. She also had a problem relaxing and having fun because of her parents and their attitudes. She was also down on what she considered "good time guys" because the boyfriend she had in college was like that and then didn't stand by her when she needed him. All of this contributed to her worry about whether Sam could be a good father. I liked the way that she was determined to give him a chance and that she helped him connect with Timmy. The more time she spent away from her parents the easier she found it to consider a different life than the one she had been leading. I also really liked the fact that Sam's lack of a college education didn't make any difference to her, that she could see his worth just as he was.
Sam had some self worth issues he needed to come to terms with. He suffered from an undiagnosed learning disability as a kid (I suspect ADD) and eventually found it easier to give up trying scholastically rather than to keep coming up short. So he stuck with what he knew he was good at (car repair and restoration) and enjoying a carefree life. He always kept his relationships light and superficial rather than risk failing there also. It irritated me that his older brothers were always ragging on him about his lifestyle, not really paying attention to the fact that he ran a successful business. When he found out about Timmy he was stunned and worried that he couldn't be as good a parent as Kara has been. I really liked the way that he started to bond with Timmy pretty quickly even though he continued to worry. I loved seeing him playing with Timmy and easily doing dad type things.
The developing relationship between Sam and Kara was wonderful. I liked the way that each one seemed to be very sensitive to the other's moods and was able to help. I loved the way that Kara seemed to be able to sense when Sam needed support and when she should back away. Sam's ability to help Kara have fun was just what she needed, but he was also able to provide what she needed when she opened up to him about her past. I hope that Drew gets a story also, not just for him but I'd also like a glimpse into what the future holds for Sam, Kara and Timmy.