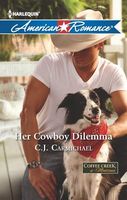 Series:
Coffee Creek Montana
(Book 2)
Going Home Shouldn't Be This Hard...

Cassidy Lambert traded in Montana's big sky country for the big-city lights-forever. Until a potentially devastating equine illness threatens her family's ranch, and Cassidy is needed at home to help. She thinks she knows what she wants from life, but the more she's around sexy veterinarian Dan Farley, the more confused she gets.

When Cassidy comes back to the open Western landscape Dan loves, she's nothing but a beautiful burr under his saddle. She stomped on his heart once before, and he's not eager for another go-around. But he just can't keep himself away from those green eyes and sweet curves. It's a good thing she'll soon be gone again. Because he can't trust her-or himself-when she's around!
Very good book. Cassidy has finally finished her schooling and is ready to get an accounting job in the city. When she comes home for a visit she ends up in the middle of an emergency with the horses and ends up taking care of them. This puts her in frequent contact with veterinarian Dan Farley. She had had a crush on him as a teenager, then did something stupid that made him angry. They've been adversaries ever since.
I really liked both Cassidy and Dan. Cassidy had had a crush on Dan when she was younger. He was best friends with her brothers and she spent a lot of time tagging after them. When she was twenty one he asked her out to a dance. While there she got scared of the intensity of her feelings for him and treated him badly. Since then he has been very cold to her whenever they met. When she arrives at the ranch she ends up having to deal with him as the vet for the sick horses. With four more years of maturity she is able to offer Dan the apology he deserves and they come to a truce. Once they did and spent some time together I could see how a much better relationship was developing. She is really enjoying her time back on the ranch, being with the animals again and enjoying the open spaces. I really loved seeing how happy she was being back on the ranch. But Cassidy is still determined to get a job in the city and away from her controlling mother. Olive is doing everything she can to push Cassidy and Dan together and to get Cassidy to stay on the ranch. She is so obvious about it that it embarrasses Cassidy and also makes her angry. Meanwhile Cassidy knows that her feelings for Dan are growing stronger but she refuses to consider a future for them that involves her staying in Coffee Creek. If it hadn't been for Olive's manipulative ways Cassidy probably would have made her decisions much sooner, but instead they caused Cassidy to dig in her heels. I did like the decisions she made at the end and how she was able to start standing up for herself.
Dan was a great guy. He was best friends with Cassidy's brothers and remembered her from when she was a little kid. When she was seventeen he suddenly realized that he didn't think of her as a sister anymore, but also that she was way too young for those feelings. He did his best to avoid her until he finally get the courage to ask her out when she was twenty one. He was crushed by her behavior that night and chalked it up to her being a spoiled brat. Now he has to deal with her again and all he can see to start with is her determination to get away from the ranch. He is still attracted to her which makes him angry because he doesn't want to fall for her again, thinking that she is still the selfish girl he remembered. But as they spend time together caring for the horses and then her dog, he sees that the caring woman is still there, just buried beneath the surface she shows to others. Dan had a great capacity for love that showed in the way he took care of the animals he treated and also in the way that he dealt with the people who were attached to those animals. It became clear that Dan had transferred all those feelings he had for Cassidy to the animals. He had also realized that no one ever made him feel the way he did about her. He had amazing strength of will to resist being with her for a short term fling knowing that he wanted her in his life permanently. I loved the way that he went after her at the end.
There is also still a good amount of tension in the family as they are still dealing with Brock's death. The truth about Winnie and the baby comes out and the family has to decide how to handle that also. I liked the way that everyone is watching Olive to make sure she behaves. There is also some minor setting up for the next book.