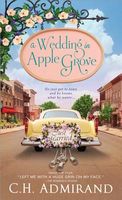 Series:
Apple Grove
(Book 1)
He's not so sure about small town life. She can't imagine living anywhere else.

Welcome to Apple Grove, Ohio (population 597), where everyone has your best interests at heart, even if they can't agree on the best way to meddle. When the townsfolk of Apple Grove need handiwork done, there's no job too small for the Mulcahy sisters: Megan, Caitlin, and Grace.

Specializing in hard work and family loyalty, tomboy Meg Mulcahy has left behind any girlhood dreams of romance. Enter newcomer Daniel Eagan, looking to bury his own broken heart and make a new start. He's surprised -- and delighted -- by the winsome girl with the mighty tool belt who shows up to fix his wiring.

But Dan's got a lot to learn about life in a small town, and when Meg's past collides with her future, it may take all 595 other residents of Apple Grove to keep this romance from short-circuiting.
Good book. I really enjoyed the small town story and all the fun characters. Meg is the oldest of three sisters and the head handyman of the family business. She is something of a tomboy and has given up on the idea of romance for herself. She's had sort of a long distance relationship with her high school sweetheart who has no intention of returning to Apple Grove to live and Meg won't live anywhere else. Her mother died when Meg was nineteen and she took over caring for her dad and sisters. When Dan arrived in town there was an instant attraction that was nothing like she had ever felt before. When they quickly act on their attraction she was ready to jump right in and get to know him better really fast. But Dan wasn't ready to move quite that fast and Meg had to decide if he was worth waiting for or if she'd be stuck in another dead end relationship. I liked the way that she decided to give him a chance and that they worked at their relationship. I also liked seeing how her time with Dan inspired her to make some changes in her own life.
Dan was a great hero. Good looking, a real gentleman, and with a loving nature he had come to Apple Grove for a new start. He had been betrayed by his fiancee and best friend so his great aunt Trudi had encouraged him to apply for a teaching position in Apple Grove. He didn't expect his instant attraction to Meg and he certainly hadn't planned on acting on it. Once he had, he was worried about rushing things with Meg the way he had with his ex, so he tried to pull back and slow things down. This caused some problems with Meg until he was able to explain it to her. He also had some adjusting to do to small town life. I loved seeing him try to get used to the way everyone knew everyone else's business, but he adjusted pretty well. I also liked the way he was so interested in his students, even outside of school.
I thought that Dan and Meg were well matched, balancing out each other's strengths and weaknesses. Once they got past their initial misunderstanding I thought they did a good job of communicating. I also enjoyed all the small town residents and their quirkiness. I liked the way the residents all looked out for each other and pitched in during emergencies. There were some great friendships, like the one between Meg and Honey. They had some wonderful scenes together when they were commiserating over the cluelessness of their men. I really liked the way that they could say anything to each other. The secondary romance between Honey and the sheriff was so much fun and I loved the scheme that they came up with to get him to face his feelings. I also loved the surprise appearance of a character from Admirand's cowboy series, and hope to see more of him.