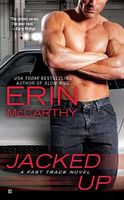 Series:
Fast Track
(Book 6)
She's holding tight. He's hanging loose.

Eve Monroe is a stock-car PR pro who puts her career first -- until an on-track wardrobe malfunction reveals more than the sexy smile of her race-car brother's jack-man, Nolan Ford. The video's become an internet sensation, and it's Eve's job to calm the sponsors and put a spin on the unexpected exposure. It may be purely a public relations job, but now that Eve's seen what's under Nolan's crew suit, it's gotten a little personal -- and after a few dates she has Nolan pretty revved up. If only she'd learn to relax and enjoy it…

And they both have the same drive.

Nolan's sure that the spontaneous birthday bash he's throwing for Eve in Las Vegas should loosen her up. It does more than that. Somewhere between cocktails and a smoking-hot motel-room derby, Eve and Nolan wake up hitched, thanks to a post-sex-high detour to a Vegas chapel. A hangover marriage to a virtual stranger isn't good for anyone's image, so Eve plans to play the happy wife long enough to satisfy the press, and then quietly part ways. Now all she has to do is convince her new personal jack-man. But Nolan has plans of his own…
Definitely a fun book.
Eve has been a supporting character in the previous books, where we see her mainly as the uptight grouch who is constantly raining on everyone's parade.

This one starts out with Eve chewing out Nolan because of his wardrobe malfunction. As the team PR person, Eve is the one who gets stuck dealing with problems like this and she really hates it. Nolan is listening to her but refuses to see it as a problem. All he can think about is how cute he thinks she is. I really liked both Nolan and Eve. Eve knows she is not the nicest person around, but she doesn't seem to be able to do anything about it. She constantly worries about everything and feels out of control if she doesn't have things planned down to the minute. She knows she is attracted to Nolan but has no intention of doing anything about it, until he talks her into going out with him. Then she discovers that his laid back attitude makes her feel better about herself. Nolan is an absolute sweetheart of a guy. I loved the way that he understands Eve from the very beginning. He can see that she doesn't know how to relax and let go of her stress and figures that he is the perfect guy to help her do that. He seems to know exactly how to get her to have fun. They had great conversations with her bluntness offset by his sheer delight in everything she said. I loved the way that he actually listened to what she said and treated her far better than even her own family did. Their date at the beer festival was fantastic and showed both of them at their best. I loved the thoughtful things he did for her that always seemed to surprise her - probably because nobody else treated her like that. Nolan was pretty consistent in his behavior throughout the book and I loved the way he was there for her. Eve drove me nuts sometimes with her constantly changing attitude toward Nolan. She had a hard time believing that he actually cared for her and that caused her to do some pretty stupid things, especially at the end. I was glad to see that she finally got her act together at the end. I wish there would be more in this series because I have really enjoyed it.