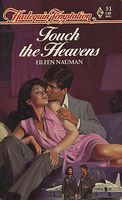 Flying was her first passion

Then Chris Mallory met Major Dan McCord, her instructor in test-pilot school. The attraction--compelling, magical, overwhelming--was definitely mutual.

The first woman in a male-dominated field, Chris had enough to handle without beginning a love affair. But the powerful feelings between them were irresistible, and with Dan she could soar to such ecstatic heights ....
One of Eileen Nauman's (aka Lindsay McKenna) earliest books, this one was just as gripping for me as anything she has written recently. Chris Mallory is a loner. She has no family and has always been very independent in her actions. As the first woman at the test pilot school she knows she is under a lot of scrutiny and is determined not to mess it up. She has had plenty of experience dealing with male pilots who don't want women in their planes. When she meets Dan McCord she is surprised by his ready acceptance of her and stunned by their mutual attraction. She is also surprised by the interest he takes in her personally. Dan was attracted to Chris as soon as he met her. Beyond that he was intrigued by her inner strength and determination.
I really liked both Chris and Dan. Chris had had a rough childhood and learned self reliance early on. She didn't open up to people easily. I loved the way that she worked so hard to make sure that she was doing her absolute best. When Dan started asking her out she worried at first that he was setting her up, but soon learned that he was an honorable man. One of my favorite things about her was her absolute joy in flying and how big a part of her it was. I also liked the way that she stood up for herself and her friends against the pilot that was being a jerk. She had some issues from her past that she had to deal with and ultimately let Dan know about. Dan's past experiences enabled him to help Chris through her issues. I really liked the way that he came to love her not just for her beauty but also the other qualities that he saw in her. He could see the woman behind the walls that she had built up and was able to help her tear them down. I loved the way that they were able to maintain their professionalism and still develop a personal relationship.
I liked the way that the story was told over the weeks of the school and showed a slowly developing relationship. The background of the school itself was interesting and gave a small glimpse of just how grueling a process it is to become a test pilot.
The flight near the end of the book was a fantastic portrayal of

the kind of trust pilots have to have in each other. It was a heart pounding read and though I knew it would turn out well the trip was certainly suspenseful. I also liked the way it showed what women had/have to go through when they break into a male dominated field like this. Even though it was written in 1985, the situations still felt very real and current to me.