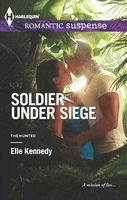 "You want this as badly as I do."

Eva Dolce would stop at nothing to save her son-even murdering Hector Cruz, the most fearsome man in San Marquez. But she couldn't do it alone. Enter special ops captain Robert Tate, a man who had seen too much. Ruthless and taciturn, Tate couldn't be more different from Eva. But they had one thing in common: revenge.

Tate had seen his brother die by Cruz's hand. And if Eva was his only way to Hector, then so be it. But the combustible chemistry sizzling between them was even more dangerous than their formidable enemies. And Eva's face, beautiful as it was, masked the truth about her past and her child. Could Tate forgive her lies...or would her secrets leave them both dead?
Good book. Eva has gone looking for Tate, needing his help to find and kill Hector Cruz. She knows that he is also looking for Cruz who killed his brother. He doesn't trust her, fearing a trap, but is willing to take a chance. Parts of her story ring true but he feels that she is hiding something.
I liked both Eva and Tate. She is tired of running from Hector and knows the only way he'll stop is if he is dead. What she learns about Tate convinces her that he is the only one who can help her. When she does meet with him he is reluctant but finally agrees. She is wary of him but insists on going along, wanting to be sure that Hector dies. I liked the way that she was all in on the mission. She didn't complain, she kept up and she stayed calm in tense situations. She wasn't real happy about the strong attraction that she felt for him. I liked the way that she took control of that attraction. I liked the way that she felt bad about keeping her secret but was sure it was the only way, even though it really caused problems when it came out.
Tate is very distrustful of Eva. He'll take her up on her offer to show him where Hector is hiding but he is going to watch her all the time. Besides this search for Hector, Tate and his men are being hunted by their own government. They were part of a botched mission and apparently saw things that they shouldn't have even though they don't know it. Eva has offered to help them find out who is after them and why when this is done. Tate does his best to resist the attraction he feels for Eva, but when she admits hers also they can't resist. As they begin to share parts of their backgrounds they form a connection that both try to ignore.
I was really rooting for things to turn out well for Eva. All she really wants is to be able to give her son a normal life. She is willing to give up any kind of happiness of her own to do that. Tate's background affects everything he does. He doesn't allow himself to get close to anyone, always expecting it to turn out badly. I felt so sad about his lack of expectation of any kind of happiness and really wanted to see him open up with Eva. I loved Sebastian's plain talking to him at the end and the way it opened Tate's eyes.
The suspense in the story was very good, with enough action to keep me turning the pages as quick as I could read. I also loved the descriptiveness of the setting, which gave a really clear picture of what they were dealing with from Mother Nature as well as the man made dangers. There was great dialogue between Eva and Tate, both intense and humorous. I also enjoyed the scenes with Sebastian and Nick and really look forward to their stories.