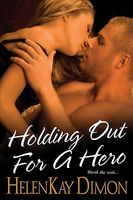 Series:
Men of Hawaii
(Book 4)
Too Close For Comfort...

Deana Armstrong needs a hero -- not for herself, but for the nephew all her money and time can't seem to get out of jail. Unfortunately, the best hero in all the Hawaiian Islands is set on turning in his badge and getting his excellent butt into another line of work. If that wasn't enough, Josh Windsor also has a big-time grudge against Deana herself. But if there's anything being rich, smart, and stubborn has taught Deana, it's never to settle for second best...

Josh has had it with saving people. He's had it with getting hauled into court. And boy, has he ever had it with Deana. Or well, he hasn't had it. Yet. But the more she pops up sounding infuriating and looking good enough to eat, the more her hot bod and her cold case wriggle into his mind. And there's only so much even a hero can resist...
Absolutely fun book. Deana is still trying to get her nephew out of jail. She has set her sights on getting Josh to do more investigating on her behalf. The problem is that they have had run-ins before because of Ryan, and he wants nothing to do with her or the case. She eventually wears him down, but he lets her know up front that he doesn't expect to find anything new. They definitely start out as adversaries, and the sparks are obviously flying. Josh has his way of doing things, but Deana wants to be involved all the way. Josh has issues with people who have a lot of money. He soon learns that there is more to Deana than he thought there was and she is getting to him. He can't get away from her, physically or mentally, and it is messing with his strategy. Deana ignores Josh when he tells her not to follow him. She also discovers that he really messes up the calm and cool persona she shows the world. Their developing relationship feels very realistic and has some bumps along the way. Their chemistry is intense and the dialogue in the book is great. Josh frequently ends up on the short side of the stick, especially when his friend Kane gets involved also. The investigation into Ryan's guilt or innocence has enough twists that the conclusion is not too obvious.