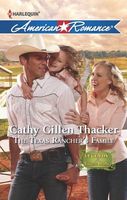 Series:
Legends of Laramie County
(Book 4)
This land is not for sale!

The Triple Canyon Ranch isn't just land to single mom Erin Monroe. It's a place her family has called home for generations, a place to raise her kids, a place where she's known love and loss. She's not about to hand it over to outsider Mac Wheeler, no matter how good the city slicker looks in those custom boots she made for him. He can find some other place for his wind farm!

Years ago, tragedy made Erin close off a part of her heart for good. Mac, with his smooth talk and smoother kisses, can't possibly be the one to heal that hurt. But as Erin learns more about Mac's past, she realizes there's more to him than meets the eye. Which makes holding on to the ranch more important than ever….
Good book. Erin is the oldest of her now mostly grown siblings, but is still considered the head of the family. She is also a single mother after the death of her daughter caused the breakup of her marriage two years earlier. Now she works hard taking care of her family, the ranch, their store and her boot business. She has no time to get involved with a man who wants to buy her home out from under her. I really liked both Erin and Mac. Erin loves her family and her home. She knows that her siblings are not going to live there forever but she doesn't want to give up their history either. She has no intention of selling her land to Mac for his wind farm even if she is incredibly attracted to him. She also didn't count on her brothers and sisters being so interested in what Mac had to offer. Thanks to Texas hospitality she ended up having Mac and his daughter staying on the ranch. This gave her the opportunity to learn more about him and discovered that they had a lot in common. I really liked the way she was so good with Mac's daughter and how quickly she came to care for them both. She did have issues with not wanting to become dependent on Mac because she had been let down so many times by her ex. I also felt bad for her because she was getting so much pressure being put on her by the other people in the county who wanted her to say yes to the wind farm. She didn't want business to come between her and Mac but she didn't know how to stop it.
Mac was a great guy. He started out pretty rough, not being used to the way things were done in Texas. He was also used to being much more intense in pursuing his business but found that he couldn't do that with Erin. The more time he spent with her the more he came to care for her. He had great sensitivity to her feelings and was really good at being there when she needed his support. He was also wonderful with her two sons who had to deal with a father who frequently broke promises to them. He had some of his own issues to deal with. He was a single father whose wife had died a couple years earlier. His wife had been something of a control freak not wanting his involvement in anything to do with their home or daughter, cutting him out of any decision making. I really liked the way he worked so hard to show the people of Laramie the benefits of wind power. I loved the ending and how the HEA came about.