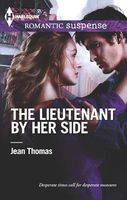 Her lies thrust them together. His suspicions keep them apart.

For Clare Fuller, the stakes are rising. Her sister has been framed for murder and a mysterious amulet is the only ransom for her acquittal. Clare must retrieve it at any cost, even if it means stealing it from a sexy, wounded war hero.

Lieutenant Mark Griggs doesn't trust the alluring schoolteacher who's stolen his lucky pendant. All he knows is that the only woman who's ever broken down his defenses needs his help. Now, to find the truth and elude a killer, Mark and Clare will have to work together-and risk being burned by the growing heat consuming them both.
Very good book. Clare was desperate to help her sister when she agreed to steal Mark's amulet. When she gets caught she fully expects to be arrested not that Mark would offer to help her find the proof she needed to clear her sister. She also didn't expect how much the good looking ranger would attract her. When they find that someone is still after Mark's amulet and has already killed twice they decide that their best bet is to stick together.
I really liked both Clare and Mark. Clare is very close to her sister and knows that Terry did not kill her husband. When she and Mark discover that the man who had wanted and Mark's amulet has been murdered for a similar piece they try going to the police. They get no satisfaction there and decide to investigate on their own. I really liked seeing the way that Clare's mind worked and how she reasoned out some possible scenarios. I also really enjoyed the way that she was so proud of New Orleans and was constantly telling Mark little things about the city and its history. One thing that Clare tried very hard to do was resist her attraction to Mark. She found everything about him appealing, from his looks to his protectiveness, but she had been engaged to a soldier who died in the war and didn't want to go through that again. I liked the way that in spite of trying to talk herself out of it she just couldn't help the feelings that just kept getting stronger.
Mark was pretty amazing. He had been attracted to Clare from the minute he saw her which is how he ended up in the predicament of getting robbed. I thought it was pretty sweet of him to actually listen to Clare's story and want to help. It didn't hurt that he was really bored on his medical leave and this was a challenge he could get into. He started out not wanting to trust Clare too much but soon learned that she had been telling the truth. I really liked his protectiveness and how determined he was that Clare would be safe. He was also trying to resist the attraction he felt for her. He could tell that she was a woman who didn't do casual relationships and didn't feel he could offer anything else. The army was his life as well as his career and he knew how hard it was on those left behind. He also didn't think he was able to have that kind of relationship because of how bad his parents had been.
I loved the culmination of the mystery and how intense the suspense of it was. I also really liked the way that Mark was able to work out a way for them to have the happy ending they both wanted.