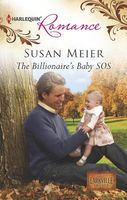 Series:
Larkville Legacy
(Book 8)
Help Nanny Needed...

Successful CEO Matt Patterson isn't called the Ice Man for nothing-he's built up his multibillion-dollar company through cool decision-making and a ruthless reputation. But now he has a new challenge to face-"fatherhood ".

Finding himself guardian to gorgeous baby Bella, Matt's more comfortable in the boardroom than changing a diaper. Lucky, then, that social worker Claire Kincaid agrees to play temporary mom. Happy families might never have been in Matt's plans, but Claire and little Bella are opening his eyes to a life that money could never buy...
Very good book and excellent conclusion to the series. Matt has just arrived to take custody of baby Bella, his ex-wife's daughter. He had remained friends with his ex after their divorce but never expected to be raising her daughter after her death. He has kept such a tight lid on his emotions for many years that he has no idea if he is capable of giving Bella what she needs, but he is determined to try. He talks Claire into helping him learn how to care for Bella. I really liked both Claire and Matt. Claire became a social worker to help children get the lives and families they needed. Her mother had died when she was young and her father had been a workaholic who never paid any attention to her. She was determined to help Matt open up and connect with Bella so that she would have a happier life than Claire had had. She was concerned at first but soon saw glimpses of a caring man beneath the Iceman reputation. She kept telling herself to protect herself from falling for him, but it became harder each day. I did like the way that she had no problem standing up to him when she saw something that he needed to do. I also liked the way that his money and lifestyle didn't impress her at all. She was able to see past it to the real Matt. I loved the way that she was able to bring out the best in him, even when he was resisting.
Matt was great. The biggest thing that struck me about him was that he seemed to embody the whole problem of the Patterson-Calhoun family dynamic himself. He had never felt connected to his father when he was growing up and when he found out the truth about his birth he was devastated. This caused him to distance himself from everyone as the feelings of betrayal overshadowed the good memories he had had. I was a little worried at first that he would take a long time to accept Bella's place in his life but it didn't. After the first few hours he started to identify with her and wanted to make sure she never felt the same disconnection that he did. When he asked Claire to help he didn't expect to feel an almost irresistible attraction to her and feel hers to him. He began by trying to explain to her what an emotional desert he was but found that she and Bella drew unexpected feelings out of him. It was really interesting to see the way that he would start to loosen up and show his feelings and then get spooked and retreat. Claire also made him realize that he missed his sisters and that maybe having new half siblings wasn't a bad thing. I loved the way things worked out at the family reunion even though he was an idiot with Claire. The conclusion was fantastic and the perfect wrap-up to the series.