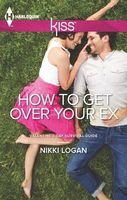 Series: Valentine's Day Survival Guide (book 1)
Being rejected is one thing. Being rejected live on radio takes it to a whole new level!

After her on-air proposal is turned down by her commitment-phobe boyfriend, Georgia Stone must learn to survive singledom. Unfortunately, thanks to a clause in her contract, she has to do it under the watchful gaze of brooding radio producer Zander Rush.

And so begins the Year of Georgia! Lurching from salsa classes to spy school, Georgia discovers a taste for adventure. Her biggest thrill so far? Flirting with danger -- aka the enigmatic Zander. But admitting she's ready for more than just a fling…? Definitely Georgia's scariest challenge yet!
Good book. When Georgia's on-air proposal is rejected by her boyfriend, she flees the studio in humiliation. Then she finds out that she still needs to honor her contract with the radio station even though there is no wedding and honeymoon to cover. So the station manager, Zander, comes up with the idea of the Year of Georgia, where she takes that time to do the things she has always wanted to do and reinvent herself. I liked both Georgia and Zander. Georgia started out wondering what was so wrong with her that her boyfriend didn't want to take the next step with her. But when Zander came up with the idea of reinventing herself she didn't much care for that, not feeling that there was that much wrong with her. I liked the way that she started out by trying things that they thought she ought to try, but gained enough confidence in herself to start going after things she wanted to do. I liked the way that each adventure showed Georgia something else about herself that added to her emerging confidence. I also enjoyed the developing relationship with Zander. They started out very professional, but the more things they did together the more the lines blurred. Georgia also started to see past the walls that Zander kept up to keep people at a distance and to fall for the man behind those walls. I liked the way she started trying to get to him. Her belly dancing lesson was fantastic and I loved the description of what she did.
Zander was an interesting guy. I loved the empathy he showed Georgia immediately after the radio fiasco when he helped her get out of the building. Besides needing to save his job by rescuing the radio promotion he also wanted to help Georgia get through this experience. Having suffered a similar humiliation he had a great deal of sympathy for her. He coped by shutting down emotionally and not allowing anyone to get close to him. He works longs hours and spends his free time doing long distance running. He doesn't expect to find his time with Georgia starting to chip away at those walls. When Georgia shows up at one of his races he is stunned and doesn't know quite what to do. He also finds that his attraction to her gets a little out of hand which scares him into withdrawing again. He also finds that he can't forget the feelings she has stirred up, but is still afraid to risk himself again.
I loved seeing how, over the course of the year, both Georgia and Zander learned more about each other and themselves. I liked the fact that it was Georgia who had the courage to be the first to go after what she wanted and risk it all. I really loved Zander's big moment at the end and how he finally had the courage to go after what he really wanted.